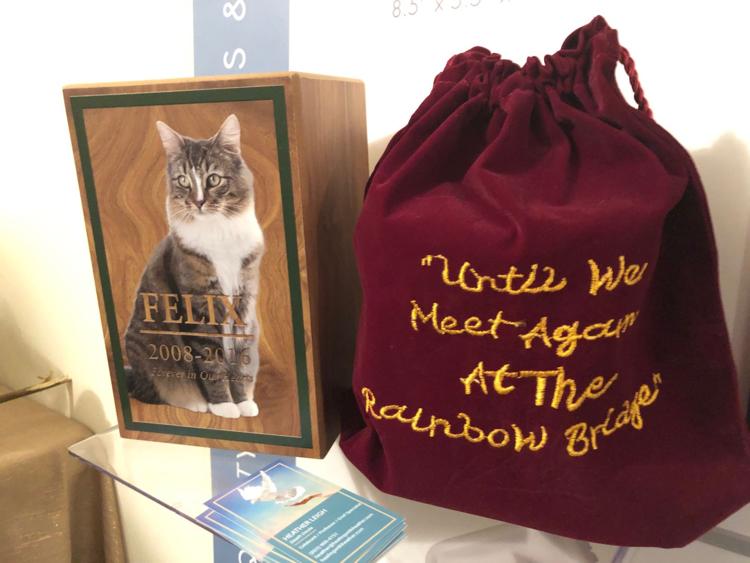 Mike and Margie Johnson have a love for pets and the humans who take care of them. That love prompted the couple to begin their newest business venture of opening a pet crematorium in Cayce. Columbia Pet Cremation Center provides services including burial, cremation, memorialization, and anything to do with the pet death care industry, according to Margie. The facility also offers on-site visitation, chapel services, pet-related jewelry and art.
The Greater Cayce West Columbia Chamber of Commerce welcomed the new business to the area with a ribbon cutting Friday afternoon, followed by a reception and tour of the facility. Christian comedian and friend of Margie's, Cherie Nettles, praised the couple for creating a facility that will be used to help others in their time of need. "I'm so happy for this place to be here. It shows their [the Johnson's] love for people, their love for animals, their love for all of God's creation," said Nettles.
The Johnsons recognized each person and business that helped get their facility to its finished product. Additionally, checks were presented to Pawmetto Lifeline, Collie Rescue of the Carolinas, and Sunset Feline.
Margie said she knows first hand that losing a pet can be a painful experience. "People don't really realize how hard it was to lose a pet after 15 or 16 years, and how to you, it's like a family member," she said. "It's a little hard walking into a vet and there's a lot of dogs barking and pets with appointments, and you have to bring your dog in to be put to sleep or cremated. I wanted a place specifically here for people who are grieving."
Columbia Pet Cremation Center's prices vary based upon the service needed. Margie said they are available for on-site burial at the pet owner's home. The Johnsons are also able to scatter the pet's ashes, if the owner desires. "Some folks really don't want to bring the remains home, they want to scatter them. So we'll go scatter them in the mountains of North Carolina," she added. "We have a heart for people who are grieving."
The facility is located at 1741 B. Airport Boulevard, and is open Mondays through Fridays from 9 a.m. to 5 p.m. More information can be found at colapetcremation.com.