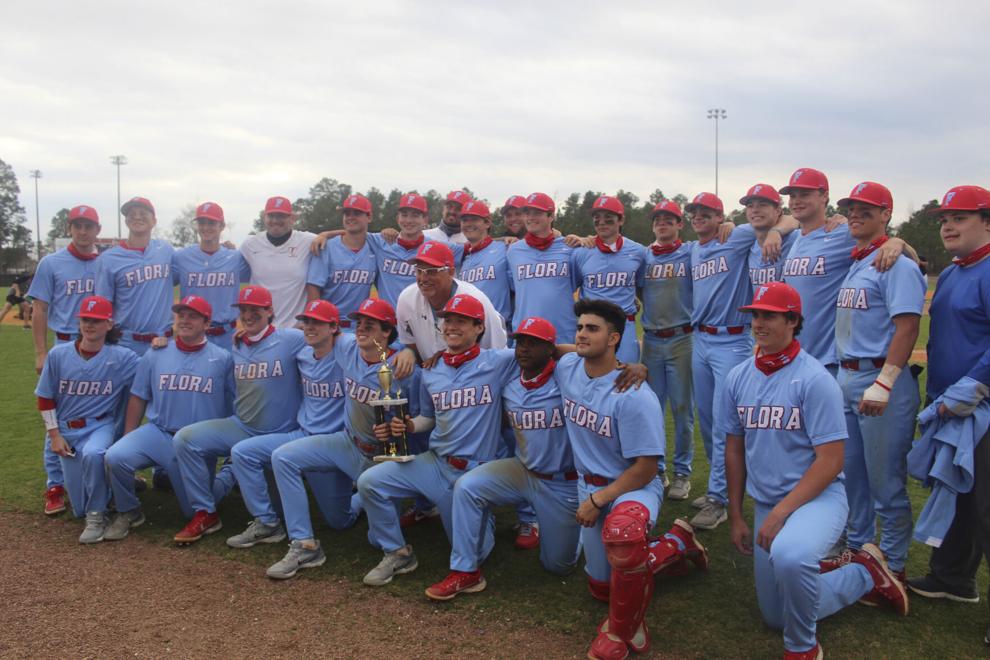 Spring Break is far from a respite for Midlands high school sports teams.
Both baseball and soccer will hold special tournaments during the week featuring some of the Palmetto State's top teams.
Kicking things off Monday are the Forest Acres Classic at AC Flora High School and the Airport Invitational at Airport High School.
The following day, the Nike Palmetto Cup soccer tournament makes its return following a one-year hiatus at Saluda Shoals Park in Irmo.
Eight boys and four girls teams will participate in the three-day tournament with the champions determined based on a points system.
The four-day SC Diamond Invitational will start at both Lexington and Brookland-Cayce high schools Wednesday. Tickets are $8 (cash only), masks are mandatory at both sites and concessions will be open.
FOREST ACRES CLASSIC AT AC FLORA HS
(Monday's Games)
Shores Christian vs. Gray Collegiate 11 am
White Knoll vs. River Bluff 2 pm
Hammond vs. Newberry 5 pm
AC Flora vs. Dutch Fork 8 pm
(Tuesday's Games)
White Knoll vs. Newberry 11 am
River Bluff vs. Hammond 2 pm
Dutch Fork vs. Shores Christian 5 pm
AC Flora vs. Gray Collegiate 8 pm
(Wednesday's Games)
River Bluff vs. Newberry 11 am
Gray Collegiate vs. Dutch Fork 2 pm
Hammond vs. White Knoll 5 pm
AC Flora vs. Shores Christian 8 pm
(Thursday's Games)
3rd place (Bracket A) vs. 3rd place (Bracket B) 9 am
2nd place (Bracket A) vs. 2nd place (Bracket B) noon
Final 3 pm
AIRPORT INVITATIONAL AT AIRPORT HS
(Monday's Game)
Strom Thurmond at Airport 11 am
Wade Hampton vs. Cardinal Newman 2 pm
(Tuesday's Game)
Cardinal Newman at Airport 11 am
Wade Hampton vs. Strom Thurmond 2 pm
(Wednesday's Games)
Wade Hampton at Airport 11 am
Strom Thurmond vs. Cardinal Newman 2 pm
NIKE PALMETTO CUP AT SALUDA SHOALS PARK IN IRMO
Tuesday's Games
(BOYS)
DW Daniel vs. A.C. Flora (Field 2) - noon
Gray Collegiate vs. Ridge View (Field 4) - noon
Blythewood vs. Cardinal Newman (Field 1) - 2:30 pm
Bishop England vs. Legion Collegiate (Field 3) - 2:30 pm
(GIRLS)
Hammond vs. Pinewood Prep (Field 2) - 5 pm
Gray Collegiate vs. Spring Valley (Field 4) - 5 pm
Wednesday's Games
(BOYS)
Ridge View vs. D.W. Daniel (Field 2) - noon
A.C. Flora vs. Gray Collegiate (Field 4) - noon
Cardinal Newman vs. Bishop England (Field 1) - 2:30 pm
Legion Collegiate vs. Blythewood (Field 3) - 2:30 pm
(GIRLS)
Pinewood Prep vs. Gray Collegiate (Field 2) - 5 pm
Spring Valley vs. Hammond (Field 4) - 5 pm
Thursday's Games
(GIRLS)
Pinewood Prep vs. Spring Valley (Field 2) - 9 am
5:00 pm - Gray Collegiate vs. Hammond (Field 1)
(BOYS)
A.C. Flora vs. Ridge View (Field 1) - 11:30 am
Gray Collegiate vs. D.W. Daniel (Field 3) - 11:30 am
Blythewood vs. Bishop England (Field 2) - 2:30 pm
Cardinal Newman vs. Legion Collegiate (Field 4) - 2:30 pm
SC DIAMOND INVITATIONAL
Wednesday's Games
(AT LEXINGTON HS)
Blythewood at Lexington 11 am
Westwood vs. TL Hanna 3 pm
(AT BROOKLAND-CAYCE HS)
Chapin vs. Greenville noon
Dorman at Brookland-Cayce 4 pm
Thursday's Games
(AT LEXINGTON HS)
Lexington vs. Westwood noon
Blythewood vs. TL Hanna 4 pm
(AT BROOKLAND-CAYCE HS)
Chapin at Brookland-Cayce noon
Greenville vs. Dorman 4 pm
Friday's Games
(AT LEXINGTON HS)
Lexington vs. TL Hanna noon
Blythewood vs. Westwood 4 pm
(AT BROOKLAND-CAYCE HS)
Greenville vs. Brookland-Cayce noon
Dorman vs. Chapin 4 pm
Saturday's Games
(AT LEXINGTON HS)
2nd place game noon
Championship 4 pm
(AT BROOKLAND-CAYCE HS)
4th place game noon
3rd place game 4 pm