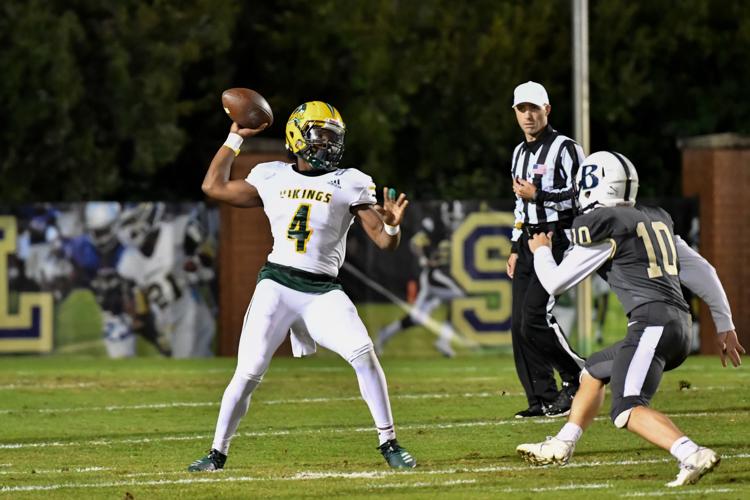 WESTSIDE (5-4, 5-2) AT SPRING VALLEY (4-6, 2-2)
The Westside Rams come to Columbia to battle the Vikings. And a familiar face will be back on the sidelines in the Midlands. Scott Earley who is the head coach of the Rams once led area teams Chapin and Lexington before making the jump to the upstate. He is one of the more fun personalities in the state, but also one heck of a football coach. This will be offense vs defense. Looking at the Rams schedule, they have allowed an average of nine points a game as they ended the season with a four-game winning streak. Spring Valley also is trending upwards. The Vikings played maybe their best game of the season last week against Blythewood, and only a few QBs in the state are as hot as DeQuandre Smith. I think this comes down to special teams and a big play on defense. One of the Midlands sack leaders Trey Peterson could be a big gamechanger. If he can cause havoc in the backfield, Spring Valley could get the victory. Last playoff win for the Vikings came in 2017 when they won two games.
LUGOFF-ELGIN (4-6, 2-2) AT SUMMERVILLE (6-3, 3-1)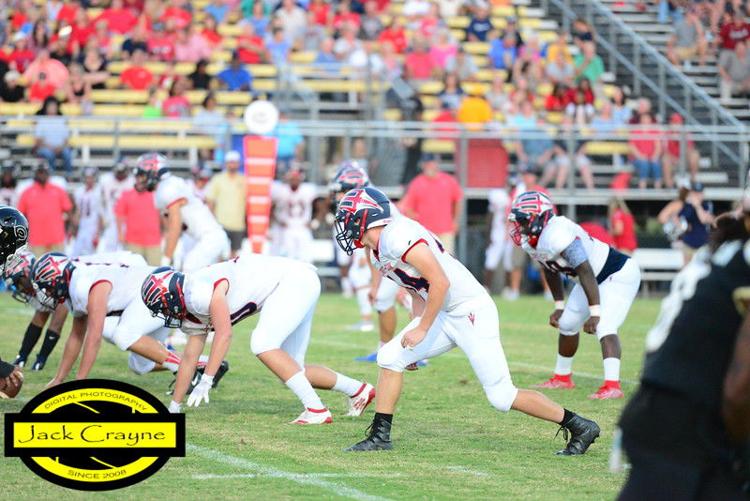 This could be one of the more interesting games in 5A. Talking with some coaches including Matt Campbell of Lugoff-Elgin, this is quite the matchup in the lower state bracket. The Demons have been playing extremely physical defense as of late, it's really the reason they have competed in every game this year. If you take away the pick six against Blythewood, they have held opponents in four of their last five opponents to 14 points or less. However, the offense is not as consistent. They have struggled to score at times, but the running game had its best output all year in their final contest as they had two 100 yard rushers on the ground.
Some fun notes: Head Coach of the Demons Matt Campbell played on the 1989 North Augusta team that started the season 0-6 but yet went on to win the state championship. To this day, its the only team with a losing record to win the state title, something he is obviously preaching to his 4-6 Demons. He was the #1 prospect in the state, and went on to have a solid college career with the USC Gamecocks and was one of the original 10 Carolina Panthers in the expansion draft. More than that, his first varsity touchdown as a high school player was on this very field the Demons will play on at Summerville, at John Mckissick field. The head man of the Green Wave is Joe Call. He was hired in 2016 when his grandfather, the legendary hall of famer John McKissick stepped down after 60 plus years. Coach Call is 34-15 since taking over the position officially.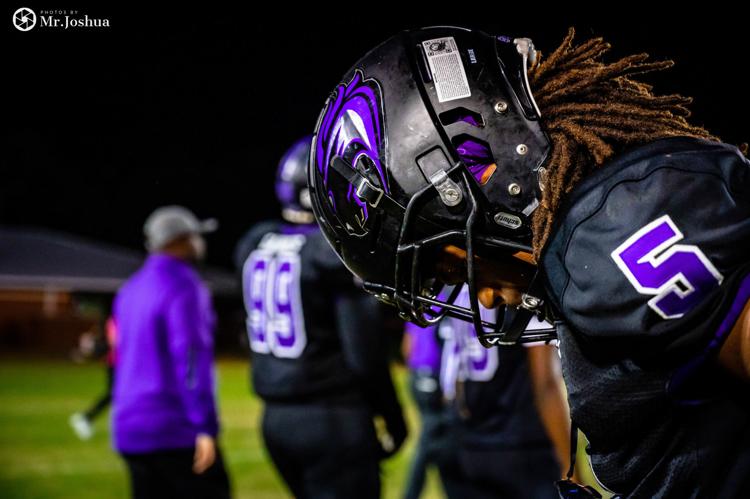 TRAVELER'S REST (8-2, 3-2) AT RIDGE VIEW (6-4, 4-1)
A rematch from last year's first round playoff. The Blazers are hoping they can replicate that 76-0 from last season to propel themselves with confidence to the next round. The numbers say this Traveler's Rest team is still giving up a ton of points. They are on the downslide coming into the playoffs. They have lost three straight giving up around 55 per contest. Coach Perry Parks and his Blazers won't look past anyone, but they know the two seed is slightly better draw than the one. The Blazer defense is as good as any in the 4A playoff bracket. They have been tested by the very best in South Pointe. It's been one of the standout units of the Midlands area. His offense needs the boost, and this could be just the remedy on Friday night. Watch for this score and Flora, could have a possible all Columbia playoff next Friday night in a battle of very good two seeds in the upper state.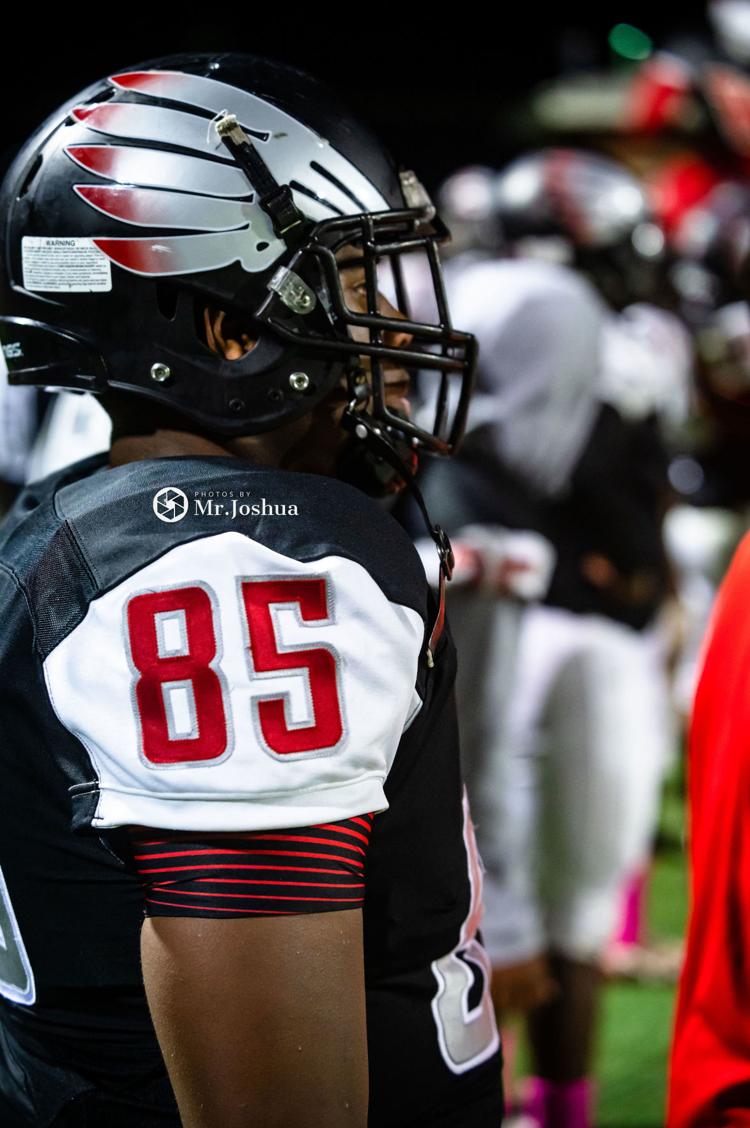 WESTWOOD (7-3, 3-2) AT EASTSIDE (8-2, 4-1)
I could be crazy. I know I have talked about it the last three weeks but don't look past this Westwood team. I think Matt Quinn has done a great job in his first year with the Redhawks. He has had to battle some injuries, made some tweaks I'm sure here and there, but his team has looked good the last few weeks. The offense seems finally at 100 percent and has one of the more athletic receiving corps in the upstate. I'm sure many teams would take Cam Atkins and Christian Horn to go out and catch balls. And Ahmon Green is steady, the Georgia State commit makes good decisions from what I have seen. And here's one of my favorite stats of the weekend: Westwood has never lost a first round playoff game and have won all but one on the road. Since the program started in 2012, they have missed the playoffs only twice.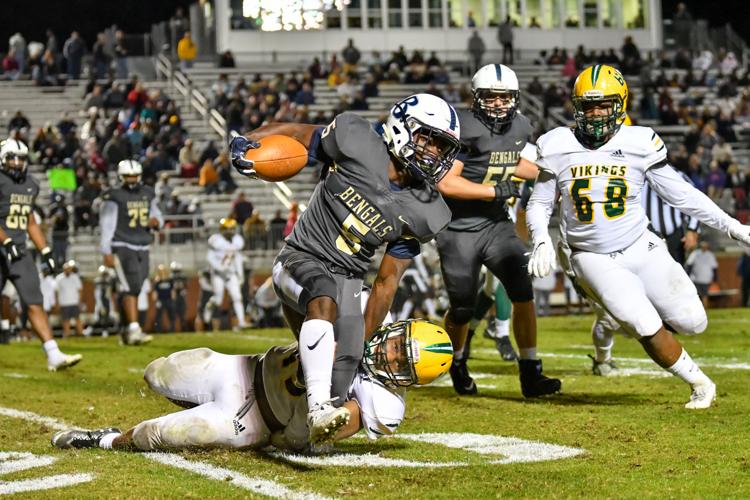 LAURENS (8-1, 7-0) AT BLYTHEWOOD (5-5, 1-3)
The Bengals get the at-large bid in 5A and a chance to redeem themselves of how they fizzled out in the regular season. They took three losses to end the season dropping to Sumter, Lugoff-Elgin, and Spring Valley. The Bengals played a tough non-conference schedule and competed very well against top caliber/playoff teams. Their offense has potential to be very dangerous. We have talked about Josh Strickland who passed for 2000 yards this season and Division I prospect, Josh Burrell, but Brandon Edwards is a guy that you have to watch for. He has accounted for nearly 800 yards from scrimmage with 12 touchdowns. He could be an x-factor here. Laurens has had a great year. Their region might be a little down but give them credit. They are coming in averaging well over 30 points a game on offense.
Other games of note: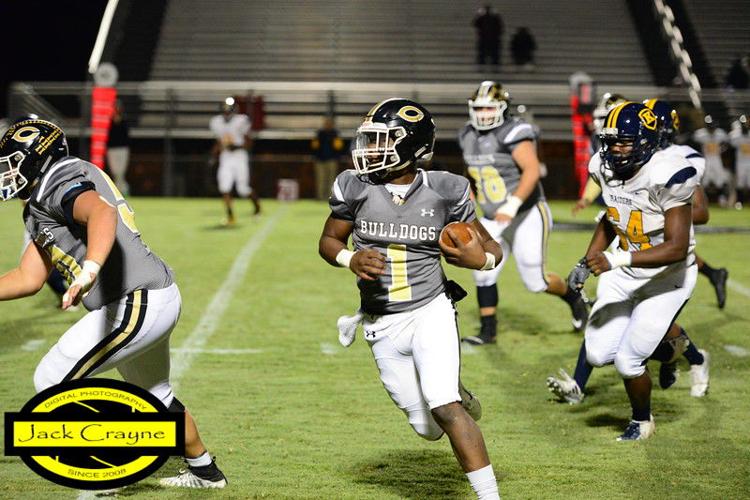 CLINTON AT CAMDEN- Of all the teams in our area, I think Camden might have the best draw in terms of matchups and ability to make a run. They have had not-so-good luck in recent years being matched up with powerhouse Chapman who has eliminated them twice in the last four years. The Bulldogs would not face Chapman until the Upper State title game, if they make it that far. If Camden focuses week to week on both sides of the ball, which includes playing bend but don't break defense and running the football, they should be primed for a run.
WALHALLA AT AC FLORA- Falcons fans should not be worried about this game. However, the Razorbacks play in a brutal region. They will be battle tested on the road after playing the likes of Daniel and Wren. The defense has been gashed in recent weeks giving up 55 and 68 to finish out the year. AC Flora should be back healthy here and advance in round one. They hope to have Matt Pack back from injury who missed a couple of games.
-Brookland-Cayce gets the rare bye in the playoffs while rival Airport will host Colleton County.
-Lower Richland gets the top seed in Lower State, but they'll have an interesting test in Marlboro County. No matter the seeding for the Bulldogs from Bennettsville, they are absolutely a tough out in the postseason.
EAU CLAIRE AT BURKE
FOX CREEK AT GRAY COLLEGIATE
CA JOHNSON AT BUFORD
FAIRFIELD AT UNION
Full brackets are on schsl.org