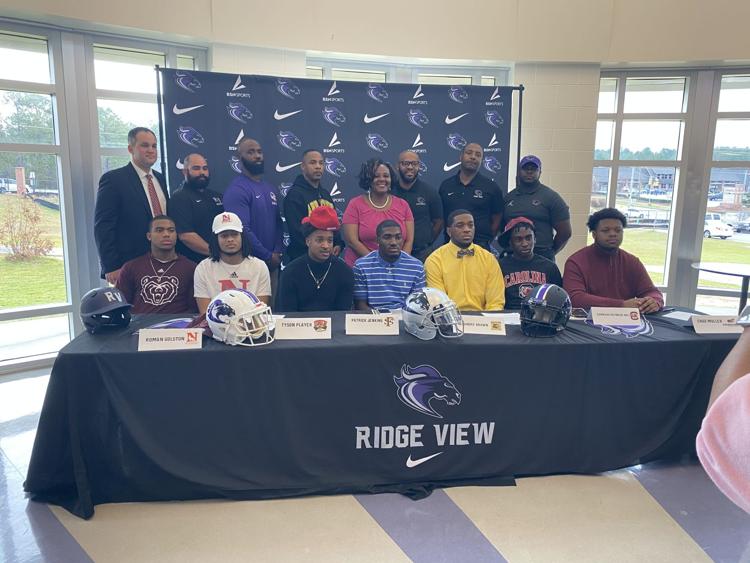 Wednesday was a busy National Signing Day in Richland County.
A total of 59 student-athletes either signed or verbally committed as walk-ons to their respective colleges and universities.
Hammond School had four players commit to the University of South Carolina. The most high profile was five-star defensive lineman, Jordan Burch. USC representatives received his national letter of intent by Friday morning.
The Skyhawks also had three student-athletes agree to attend South Carolina as preferred walk-ons. In all, five Midlands student-athletes plan to walk-on with the Gamecocks.
A.C. FLORA
Dotorian Best - Wingate (football)
William King - St. Joseph's (lacrosse)
BLYTHEWOOD
Chase Atkinson - Syracuse (football)
Bryan Cosby - Erskine (football)
Brandon Edwards - South Carolina (football - walk-on)
Josh Strickland - Limestone (football)
CARDINAL NEWMAN
James Reedy, South Carolina (football - walk-on)
Bradley Turner - Limestone (baseball)
Sarah Liebenow - VMI (swimming)
DUTCH FORK
Ta'chawn Brooks and Jon Hall - Independence CC (football)
Tyrik McDaniel - Old Dominion (football)
Graham Newboult - North Greenville (football)
Trey Irby - Newberry (football)
DiMarco Johnson - Akron (football)
Jarvis McClurkin - Shaw (football)
Rasheed Rucker - Mars Hill (football)
Alyssa Bruss - Central Methodist (softball)
Tenley Hartford - St. Andrews (softball)
William Reid - Newberry (soccer)
Paul Jones and Damon Williams - Akron (soccer)
HAMMOND
Jordan Burch - South Carolina (football - verbal commit)
Saul Diaz - The Citadel (football)
Bradley Dunn - South Carolina (football - walk-on)
Fabian Goodman - South Carolina (football - walk-on)
Alex Huntley - South Carolina (football)
Jackson Muschamp, Georgia (football - walk-on)
HEATHWOOD HALL
Gavin Goodwin - Sewanee (football)
IRMO
Jabari Avery - Wingate (football)
Raekwon Heath - Western Carolina (football)
Ky'Ana Thomas - Salem College (basketball)
Julie Hilliard - Coker (softball)
Mallory Haney - UNC/Asheville (track and field)
MID-CAROLINA
Blake Arnoult - Newberry College (football)
RICHLAND NORTHEAST
Anthony Cleckley - Limestone (football)
Davon Eddy - Community Christian (football)
Labruce English - Community Christian (football)
Jhabari Hollis - Erskine (football)
Elias O'Neal - Pikeville (football)
John Porter - North Greenville (football)
RIDGE VIEW
DeAundre Brown - Ellsworth CC (football)
Patrick Jenkins - Fort Scott CC (football)
Chandler Muller - Erskine (football)
Tyson Player - UNLV (football)
Kamarah Reynolds-Hall - South Carolina (football - walk-on)
Roman Golston - Newberry (baseball)
SPRING VALLEY
Hunter Rogers - South Carolina (football - walk-on)
Logan Sables - Erskine College (lacrosse)
Tyler White - Johns Hopkins (soccer)
Mikayla Turner - Western Carolina (track and field)
Amaryah White - Coastal Carolina (track and field)
WESTWOOD
Cam Atkins - Hutchinson Community College (football)
Ahmon Green - Georgia State (football)
Christan Horn - Appalachian State (football)
Sean Artiss - S.C. State (football)
B.J. Williams - Eastern Kentucky (baseball)
Edwin Olmeda Jr. - USC/Lancaster (baseball)
McKayla Kenner - Columbia College (swimming)