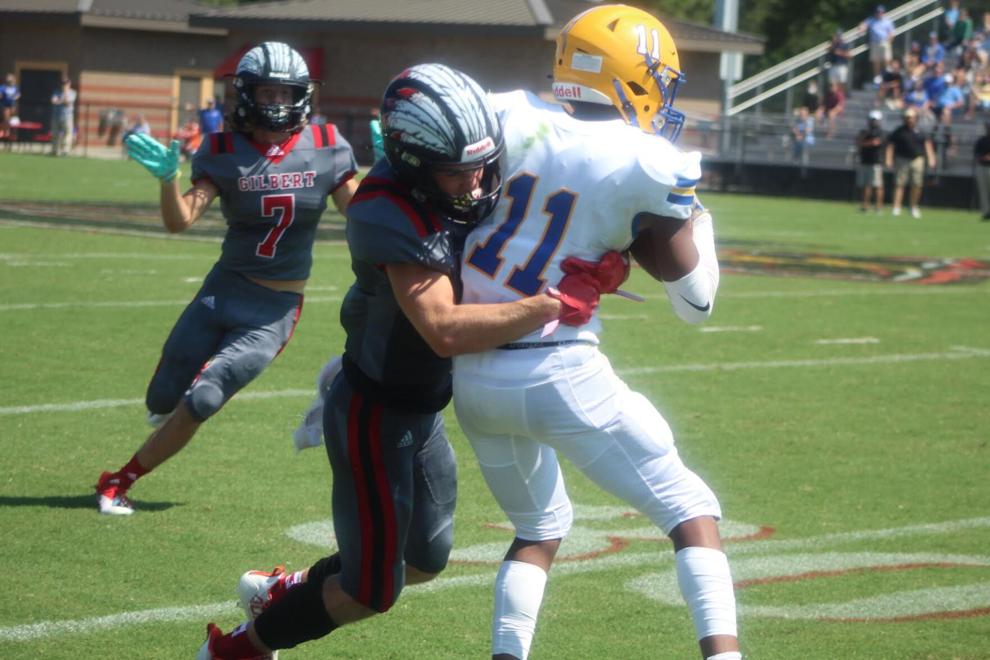 Growing up, Lexington coach Perry Woolbright watched his father win many games as head coach at Gilbert High School.
Marty Woolbright remains the school's winningest head coach with 67 career wins.
The younger Woolbright got to witness another victory Saturday at Leonard Price Field. This time, as head coach of Lexington High School as it held off the Indians 14-12 Saturday afternoon.
The win snapped a nine-game losing streak dating back to November 2019 for the Wildcats. It was also their first game in two weeks as the program continues to deal with challenges created by COVID-19.
From moving players to unfamiliar positions due to the absence of eight starters to having to re-quarantine others, Woolbright said he was proud the way his team has dealt with the adversity.
"We went out and practiced a couple of times this week with no slot receivers, one tight end" Woolbright said. "We moved a guy up about 10 minutes before practice. We moved some linemen around to positions they never played. You know what. That's what we're in nowadays.
"That's the big thing about this win. Our guys stepped up. We didn't pout. We had guys that probably in the beginning of the year didn't know they were going to play very much. They played a lot. We had a JV running back (Gabe Goetsch) that came in and played some valuable downs for us today. That was big for us right there for our kids. We needed that."
Lexington took a 7-0 lead on its first series left with a three-yard touchdown run by Tyler Walker. The Indians entered the Red Zone twice and came up empty and had two other drives end on interceptions of quarterback Chance Jennings by Reese Waites and Harley Fox.
Gilbert opened the second half with an 11-play, 77-yard scoring drive capped by a one-yard touchdown run by Gray Leaphart. the score was set up by a 24-yard reception just in bounds by Gage Gunter on fourth and 20 from the Lexington 25.
Lexington tackled Alias Woodberry short of the goal to maintain a 7-6 lead.
Another turnover by Gilbert led by the Wildcats' next score. Gilbert's Gunter could not field the punt by Thomas Carpenter and Waites recovered the football at the Gilbert 34.
A 21-yard keeper by Taiden Mines set up Walker's second touchdown run of two yards. The PAT by Tyler Chavis put the Wildcats up 14-6.
Gilbert made a final push late in the game. It drove 59 yards on six plays for Wooberry's two-yard run with 38 seconds left. Jennings was unable to complete the potential two-point conversion to Gunter and Lexington's Cameron Sutton recovered the onside kick to allow his team to run out the clock.
Lexington now holds a 2-1 lead in the all-time series which finally began in 2018.
White Knoll 31, Orangeburg-Wilkinson 12
The Timberwolves snapped a 8-game losing streak dating back to October 2019 and earned their first win for new head coach Nick Pelham.
"We had some great plays by some individuals tonight and I also think we just kept at it," he said. "We got smoked two weeks ago against Spring Valley. We got whooped by Lower Richland a week ago. But we didn't quit and we kept fighting and we kept working and we kept coming back to practice and the seniors kept leading us in practice and that showed tonight."
Jaquez Frederick scored two rushing touchdowns and Austin Cunningham had a rushing and passing touchdown for the Timberwolves. Junior placekicker Maleah Perry also had a career game, going 4-4 on PATs and hitting a 20-yard field goal.
Dutch Fork 56, JF Byrnes 25
The top-ranked Silver Foxes were not just playing their first game since the untimely death of senior offensive lineman Jack Alkhatib.
It initially looked look they would also be missing their longtime head coach. Tom Knotts was reportedly hospitalized during the week, but was released and did make his week to the sidelines in Duncan.
With Knotts and Alkhatib's mother, Kelly, seated in the stands, Dutch Fork resumed its winning ways against the fifth-ranked Rebels.
Davin Patterson threw for 267 yards and four touchdowns to four different receivers and he and Jarvis Green both rushed for two scores as the Silver Foxes turned a 14-13 lead into a 42-25 halftime margin.
The teams were nearly even in total yards (472-439 in favor of Dutch Fork). Byrnes quarterback Gabe Rogers threw for 292 yards and two touchdowns, but was sacked twice.
Landon Danley had nine tackles and Chandler Perry had seven tackles for Dutch Fork. It was the 52nd consecutive game without a loss, the 51st straight win over South Carolina teams and 29th win in a row on the road for the Silver Foxes, who are idle again next week.
Chapin 56, Lugoff-Elgin 26
For the second straight week, running back Bennett Galloway, quarterback Jayden Bradford and wide receiver Zavier Short all accounted for three touchdowns in victory at Cecil Woolbright Field.
Galloway rushed for his three scores in the first half to give Chapin a 28-7 lead. Bradford threw two touchdowns to Short, who also had a 72-yard kickoff return for a touchdown, and one to Yates Bland.
 Nation Ford 28, River Bluff 21
The Gators fought back the entire evening against the Falcons before a late scoring sent them to their second straight loss.
Chapin transfer Hunter Sheppard threw for 249 yards and three touchdowns, two to Apollos Cook, and Gray Herring rushed for 107 yards for River Bluff (1-2). Cook had 13 receptions for 152 yards.
The game was tied three times before Nation Ford's Carson Black found Kenan Bowman for 51 yards for the game-winning touchdown.
Brookland-Cayce 14, Blythewood 3
The Bearcats' Tanner Staton and Benjamin Pugh each scored on short runs and the defense allowed just one field goal as they opened the season with a victory in a televised contest on WACH 57.
Camden 43, Hartsville 37
A trio of players scored two touchdowns each for the Bulldogs, who rallied from a double digit deficit to defeat the Red Foxes in Kellytown.
Devontae McCray had the go-ahead score with 1:26 left in the game. Quarterback Cauthen Best and Cortez Lane also had two scores for Camden.
Heathwood Hall 34, Ben Lippen 17
Rondarius Porter rushed for two touchdowns and forced a fumble recovery and Dylan Lesane had two touchdowns for the Highlanders in the victory.
Hammond 35, Porter-Gaud 7
Quarterback Jack Weston threw for 168 yards and three touchdowns and running back CJ Stokes rushed for 147 yards and a touchdown to lead the Skyhawks.
OTHER MIDLANDS SCORES
Thursday's result
Gray Collegiate 42, Legion Collegiate 0
Friday's results
Pelion 42, Midland Valley 26
Barnweel 40, Swansea 8
Chester 28, Airport 7
Johnsonville 29, North Central 26
Mid-Carolina 51, Whitmire 0
Crestwood 16, Richland Northeast 15
Fairfield Central 32, Chesnee 16
Patrick Henry 60, WW King Academy 14