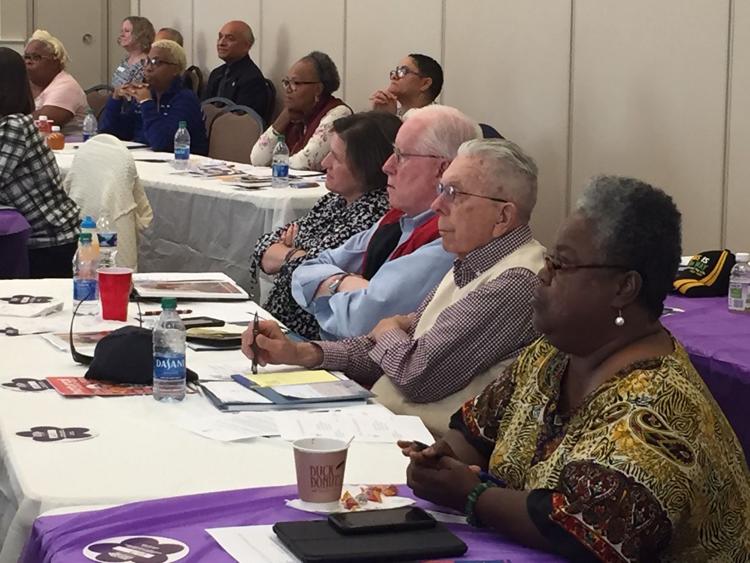 Area residents caring for an elderly or disabled loved one learned more about how to face those challenges at the second annual Caregiver's Conference held Oct. 23 at Doko Manor in Blythewood.
Dozens of attendees spent the day hearing speakers on Alzheimer's disease and other forms of dementia, end-of-life issues including wills and probate, DHEC requirements for nursing homes and assisted living facilities, and services available from local organizations. Topics included the physical and emotional issues of care giving, respite care, time management, financial costs, loss of work time and career opportunities.
"You have to self-educate," Yvette Pearson, community relations director at Watercrest Assisted Living & Memory Care told the crowd. "It's the only way to know your resident's rights and your family's rights."
Educating people about services available is also a concern for Candice Holloway, family caregiver advocate for the Central Midlands Area Agency on Aging. The agency offers many free services to eligible seniors and caregivers, including respite care.
"It's a break from those caregivers' responsibilities," Holloway said. "It can be a few hours to a few days."
The agency also provides minor home modifications such as installing grab bars, as well as support to seniors raising their grandchildren, including clothing, back-to-school supplies, tutoring and after-school events. The services are paid for through state and federal funds, Holloway said.
More support for caregivers is on tap for Saturday, Oct. 26 when the nationwide Walk to End Alzheimer's takes place at Segra Park in Columbia. The two-mile walk begins at 10 a.m. Learn more here.