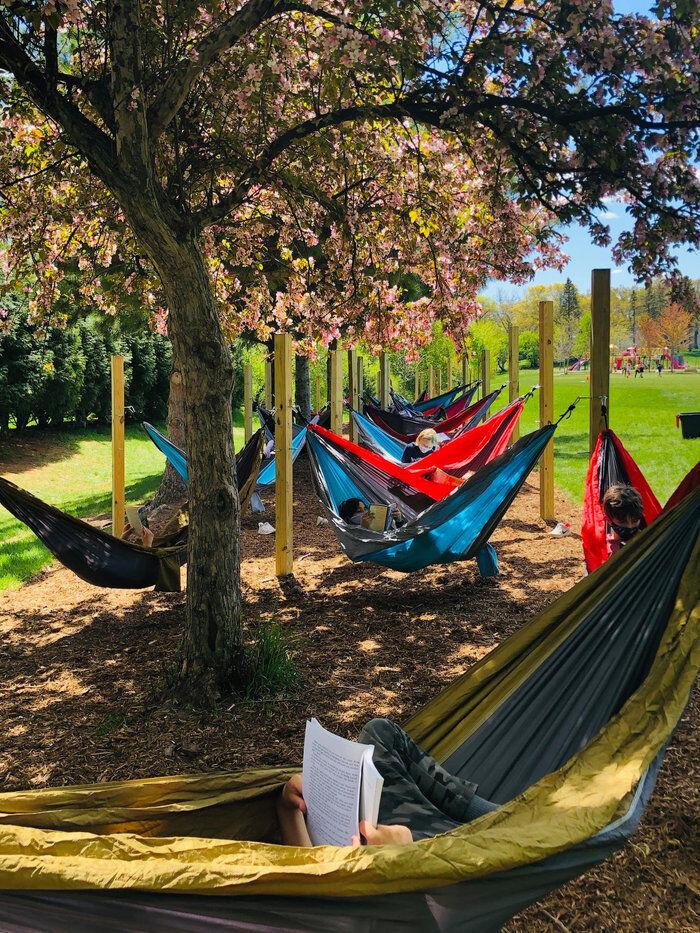 Summer campers, teachers on retreat and hard-working volunteers at Camp Discovery in Blythewood will soon have a special place to read, relax and recover, thanks to a new "hammock forest" now under construction.
"This will serve as a place for campers, families, and teachers to take a nature break to read a book or just be still for a while on our beautiful property," executive director Amy Ellisor said.
The camp plans to set up 36 hammocks in several pods under the shaded area bordering the pollinator garden and in the forest trail near the ropes course. The hammocks will be installed with giant hooks connecting to wood posts, so they can be moved to different locations as needed. The hammock forests also could harbor scout camping nights and mindfulness hike meditation sessions, according to Ellisor.
She said she got the idea for the hammock forest after seeing a picture of one at Heyer Learning, a nature-based educational program in Minnesota. The hammocks are produced by Eagles Nest Outfitters in Asheville, North Carolina.
Eagle scouts are already lined up to install the hammocks and will start assembling the forest when at least 10 hammocks are donated. Sponsoring a hammock costs $125 and includes a naming plate on the post. Six have been donated so far, with fanciful names including Blevins' Bubba, King's Kastaway, Hall-Schon Hideaway and Ellisors' Escape.
It's not necessary to sponsor an entire hammock to help with the project, Ellison said. "Donations of any amount will help us to create this wonderful 'Hanging Habitat' for our community."
Learn more about sponsoring a hammock or contributing to the project HERE.
Camp Discovery opened in 1985 as a recreation therapy program serving the area's children and youth. It has expanded to offer hands-on, nature-based experiences for people of all ages and backgrounds over the past 35 years. In a peak year, the camp serves 4,000 students, teachers and families in the Columbia community, according to Ellisor.
For more information, contact the camp at (803) 754-2008 or email contactus@campdiscoverysc.org.