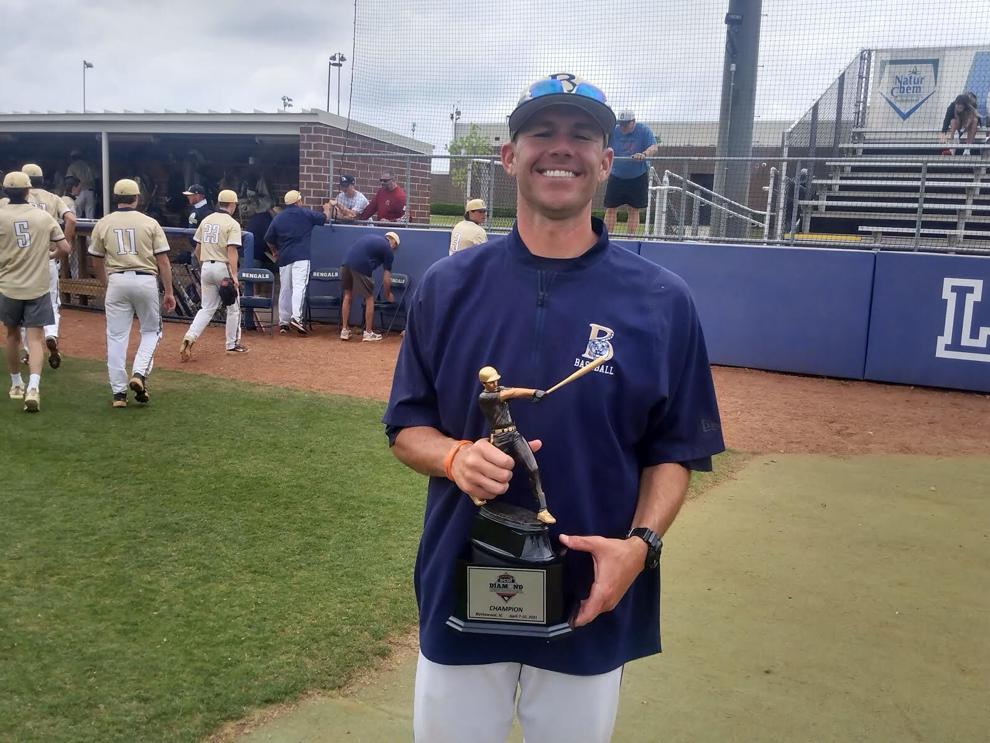 It was another "great moment" at alma mater Lexington High School for Banks Faulkner Saturday afternoon.
The Blythewood head coach saw his team defeat Dorman 4-2 to claim the SC Diamond Invitational. The tournament was moved this year from Blythewood to Lexington County where games were held at Brookland-Cayce and Lexington High School.
It was at Lexington High where Faulkner won a state title as a player in 1999 and assistant coach in 2013.
"Blythewood's my home now, but this place is always been a special place to me and always will be," Faulkner said. "I've had some great moments on this field and this is just another one."
The third-ranked Bengals appeared headed to a shutout victory after five innings. Starter Jacob Hardy held the Cavaliers hitless through four innings before giving up two singles in the fifth.
Zac Cowan relieved Hardy in the fifth inning. In the sixth inning with Adams Faucett on base after getting hit, All-State and Indiana University signee TJ White headed to the plate with two outs.
Despite Blythewood shifting four players into the outfield, White connected on a 0-1 pitch from Cowan and sent a towering shot over the rightfield wall to tie the game.
"He did what a great player does," Faulkner said. "He made us pay and it was one of the dumbest decisions of my 18 years of coaching. We got him twice, but he did what a great player does. He hit a mistake."
Fortunately, according to Faulkner, his team was able to overcome White's third home run in two days. The Bengals put two baserunners on in the seventh and both scored off passed balls and Cowan retired Dorman in order to end the game.
Ty Dooley was named the Invitational Most Valuable Player and Justin Flemmings was named to the All-Tournament team from the Bengals.
Lexington 4, Greenville 3
For the third time in eight days, the second ranked Wildcats pulled off a walk-off victory.
Wells Sykes two-run double in the Bottom seventh enabled Lexington to earn the comeback win to close out the SC Diamond Invitational with a 3-1 record.
Lexington took a 2-0 lead in the Bottom third on a RBI groundout by Ryan Toll and RBI single by Nathan Hall.
The Red Raiders answered in the Top fourth with a two-run double by Rivers Moore and RBI single by Carter Johnson to take the lead.
Gage Goodwin drew a leadoff walk to open the Bottom seventh. He moved to second following a sacrifice bunt and after Anthony Plotkin was hit by a pitch, Sykes sent the 1-2 pitch to leffield to score both runners.
The Wildcats (12-2) return to action at 6:30 pm Monday for a first place showdown at home against Dutch Fork. 
Brookland-Cayce 4, Westwood 3
The Bearcats held off a late rally against the Redhawks to finish 2-2 at the Invitational.
Brookland-Cayce held a 4-0 lead through five innings. Jackson Thomas, Skylar King, Parker Mergo and Brycen Johnson all drove in runs and Tanner Staton had two hits.
The Redhawks drove in two runs in the sixth on fielder's choices and got a run off an error in the top seventh. Hayden Thomas got the final out on a caught flyball.
TL Hanna 10, Chapin 9
Connor Swanson's RBI single in the bottom seventh gave the Yellow Jackets a victory over the Eagles to finish 3-1 at the Invitational.
Chapin trailed 5-0 after two innings before scoring seven unanswered runs in the bottom third. The rally started after Chapin loaded the bases and scored two runs off an error.
An RBI fielder's choice groundout by University of South Carolina commit Matthew Becker made it 5-3. An error at second base brought home another run and RBI walk by Gabe McMillion tied the game.
Back-to-back wild pitches scored two more runs in the inning for the Eagles. After the Yellow Jackets got within 7-6 in the Bottom third, University of South Carolina commit Matthew Becker drove in a run in the Top fourth for Chapin.
Tyler Ethington's RBI single and Walt Smith stealing home helped TL Hanna tie the game at 8-8. In the Bottom fifth, Swanson's flyball was misplayed at second base for the Eagles' fifth error of the game and allowed Brody Winter to put TL Hanna up 9-8.
With two outs, Chapin's Ryland Rychener belted a double and he scored on Matthew Lively's RBI single to tie the game again.
TL Hanna opened the Bottom seventh with a double by Brett Boone. Brian Boone reached base on a bunt single, setting up Swanson's heroics to end the game.