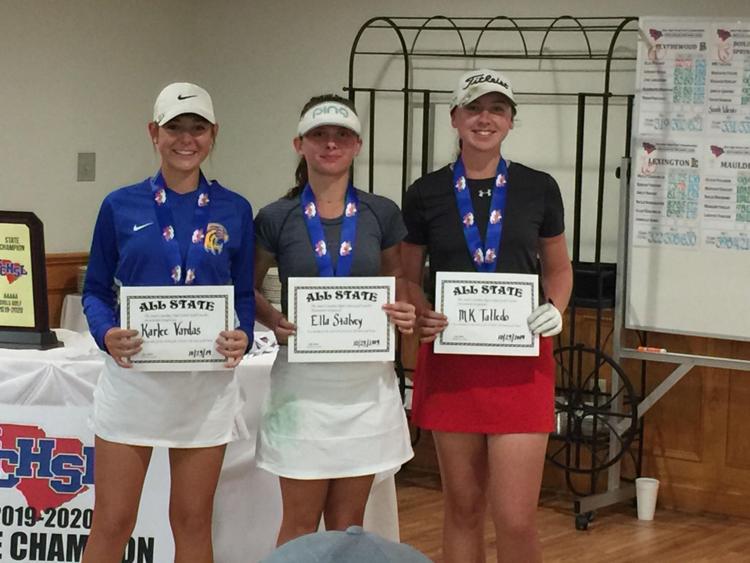 For the fourth consecutive year, the S.C. High School League crowned a Midlands' team the Class 5A girls' golf champion.
For the first time, it was someone other than 13-time state champion Lexington. Blythewood High School took the prize Tuesday at the Mid-Carolina Country Club in Prosperity, after finishing as the runner up the past two times.
The Lady Bengals shot a two-day score of 621 to beat out the Lady Wildcats by nine strokes. The only other Midlands participant, Chapin, finished in eighth place.
It was the golf program's first state title won and first in any Blythewood sports since 2010.
"We have come a really long way as a team together," Blythewood coach Jason Minkel said. "We finished third two years ago, second last year. This was obviously the goal this year. They have come together and worked so hard as a group. They deserve all the credit they get. They put everything together out there on the course."
"I'm extremely proud of our team to overcome all the adversity that we had to deal with toward the end of the season to still be right there with a chance to win with 3-4 holes to go," Lexington head coach Charles Smith said. "Congrats to Coach Minkel and his team as they played lights out down the stretch to win."
Lexington did claim the individual title for the seventh time at the state final. Karlee Vardas defeated Ella Stalvey on the second hole in the playoff to finish as top medalist.
The junior Lady Wildcat made a clutch putt on the first playoff hole to stay in the match and won on the second hole. She joins past Lexington champions Danielle Dunnagan (2008), Maureen Dunnagan (2009), Sydney Legacy (2013), Lauren Stephenson (2013-14) and Isabella Rawl (2018).
"Karlee did an outstanding job of bouncing back from the team disappointment," Smith said. "I'm incredibly proud of the mental toughness she showed to come back from that."
Lexington's Molly Hardwick placed sixth. Teammate Emily Beiers and Chapin's Emily Baker tied for eighth place to earn All-State honors.
In other state golf results, Gilbert placed third at the Class 3A girls' tournament held in Conway. Kennedy Gooding made the All-State team.