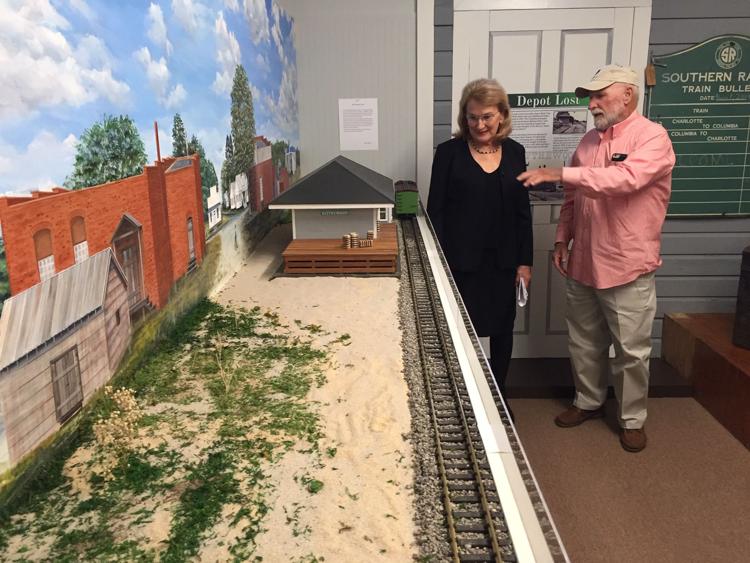 Dozens of Blythewood area residents packed the Blythewood Historical Society Museum Friday evening for the opening of the new Train Room exhibit.
The exhibit features a large 3-D mural by renowned South Carolina artist Harold Branham depicting the 1850s-era Blythewood train depot. It also includes artifacts from the original Blythewood train station, including a telegraph machine and iron rail line.
"It represents the heart of the town the way it used to be," said Jim McLean, town historian whose father was the former station agent and whose family salvaged many of the exhibit items on display.
The South Carolina Railroad built tracks from Charleston to Columbia in 1842, reaching what was then known as Doko by 1850. The station began as a water supply site for the trains, but the town quickly grew up after the railroad came through.
"It provided transportation, communication and a lifeline," McLean said.
The new exhibit is the first phase of multiyear renovations planned for the museum. "Phase two will include updating the exhibits in the rest of the museum," said historian and consultant Staci Rickey of Access Preservation. "We recently got a grant from South Carolina Humanities so we hope that work will be done by next spring. Phase three will involve renovations to the building, probably late next year depending on fundraising."
The museum is located in the historic Langford-Nord House at 100 McNulty Street. For more information, call the museum at 803-333-8133.