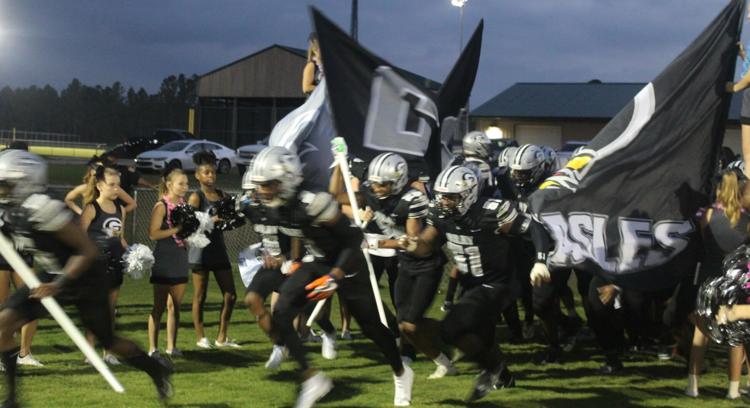 KZ Adams rushed for 280 yards and two touchdowns, including the game-winner with 1:51 left, to lift second-ranked Gray Collegiate to a 27-20 win over Batesburg-Leesville.
It was the Region 3-2A opener for both teams. The contest also marked the debut of new Gray Collegiate quarterback Tre Robinson against his former school.
Robinson threw a 33-yard touchdown pass to Devin Johnson and rushed for another from five yards to give the War Eagles a 19-7 lead in the second quarter. The Panthers answered with 13 unanswered points to take the lead on a 33-yard touchdown reception by Marvin Gantt and an interception return for a touchdown by Chris Whitt.
Gray Colleigate had three scoring opportunities in the second half, only to get denied by Batesburg-Leesville's defense. On the final drive in the fourth quarter, consecutive holding penalties put the War Eagles in a first and 30 in Batesburg-Leesville territory.
Adams got the carry and managed to break free for 27 yards. The War Eagles picked up the first down and continued to advance until Adams' go-ahead score and conversion.
Batesburg-Leesville managed to reach midfield in the final seconds, but Williams' pass fell incomplete to end the game.
"What a football game," Holmes said. "Coming out playing Batesburg first game of the year. Big time region game. Good environment here. We just came down, 17's (Adams) our player. We felt like we were pretty good upfront and we wanted to put it in his hands and let us go win the football game and we kind of did that in the second half."
Gray Collegiate (1-0, 1-0) will stay at home to face Columbia. Batesburg-Leesville (1-0, 1-0) will play its home opener against Eau Claire.
Gilbert 32, Orangeburg-Wilkinson 13
The Indians' first ever trip to the Bruins Den was successful.
Colton Mason sparked the running attack with 166 of Gilbert's 217 yards and one touchdown. Quarterback Izayah Whiteside completed 10-19 passes for 115 yards and he and Gray Leaphart each had two touchdowns in his first career varsity start.
Gilbert took a 5-0 lead on a 26-yard field goal by Cooper Burkett and safety by Neil Bastian.
O-W (0-1, 0-1) answered with a 31-yard touchdown pass by Mykai Void to Demondray Carmichael to take a 6-5 at the end of the first quarter.
The Indians scored 14 unanswered points in the second quarter on a 22-yard touchdown pass from Whiteside to Joel Franklin and a two-yard scoring run by Gray Leaphart.
The Bruins cut the lead to 19-13 in the third quarter on Anthony Mack's three-yard touchdown run. Mason extended the lead to 25-13 in the fourth quarter on a four-yard touchdown run and Whiteside found Leaphart from eight yards with 47 seconds left.
The Indians (1-0, 1-0) play their home opener next week against Fox Creek.
Dutch Fork 66, White Knoll 0
Dutch Fork took the first step in its "Drive 4 5" state championships in a row this season with a 66-0 home-opening win over White Knoll Friday.
Ben Lippen transfer Will Taylor threw for 307 yards and five touchdowns and rushed for a score in his Silver Foxes' debut. Antonio Williams accounted for three touchdowns, two receiving and a 72-yard punt return.
Dutch Fork held the Timberwolves to -12 rushing yards and only two first downs.
It was the 24th consecutive region win for the Silver Foxes, who also extended their undefeated streak to 41 straight and winning streak against South Carolina schools to 40. Up next is a home game against Chapin.
White Knoll will have an unscheduled bye (its Oct. 2 game against Lexington was moved to Oct. 30 due to coronavirus with the Wildcats' program) and return to action Oct. 9 against Chapin.
OTHER SCORES FROM LEXINGTON COUNTY AND IRMO
Chapin 47, Lower Richland 26
Laurens Academy 64, Northside Christian 14
Brookland-Cayce 41, Fox Creek 6
Airport 20, Midland Valley 0
Irmo 63, Richland Northeast 6
Ridge Spring-Monetta 26, Pelion 12
WW King Academy at North Charleston (cancelled due to rain)