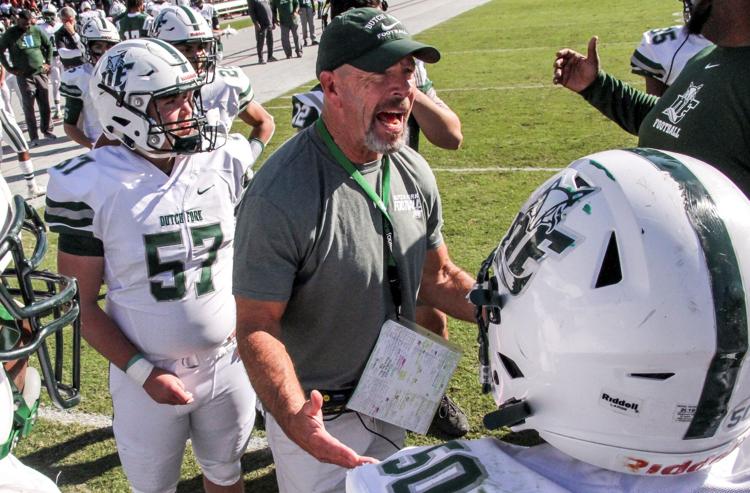 The COVID-19 pandemic has resulted in another delay in the S.C. High School League football season.
The Executive Committee voted unanimously 18-0 on Wednesday to adopt a revised return to play plan. In addition, coaches and administrators will be required to take a covid-19 course.
Under the league's latest plan, the opening date of football practice was moved back again from Aug. 17 to Sept. 8. This was also designated as the starting date for competitive cheer.
The football regular season was pushed back from Sept. 11 to Sept. 25 with teams allowed to play at least 2 preseason scrimmages. Teams can start wearing helmets as part of Phase 1.5 on Aug. 17, don full pads on Sept. 10 and begin scrimmages 2 days later.
A 7-game football schedule will still take place with the season ending with the "Weekend of Champions" Dec. 4-5. The state championships for competitive cheer will take place Dec. 15-19.
The starting dates for girls golf, tennis and swimming are now Aug. 17 and cross-country and volleyball will begin Aug. 24.
In addition, the playoff fields in football, volleyball and tennis will be reduced to 4 rounds and from 32 to 16 teams. Only the 2 highest finishing teams in a region will qualify for the post-season. Teams who don't make the playoffs can schedule an additional game by Nov. 20.
"That was the plan from the very beginning – to make it as flexible as possible so that we could continue to move and react to the circumstances and conditions being caused by the covid virus," Commissioner Jerome Singleton said. "…We can still make some additional decisions. It lends itself to that.
"But if we start talking about the 'what ifs' – we could come up with five or six pages of 'what ifs' and have to try to address all of those. We want to address what's in front of us now, and if we're forced to change something, then we'll do that."
In addition, all coaches and administrators are required to complete the free National Federation of High Schools online course on covid-19 before the 1st game.
The adoption of a revised plan came as Lexington School District 1 officials dropped its appeal to the Appellate Panel.
Led by District Athletics Director David Bennett and Superintendent Greg Little, their plan called for the sports year to be split into 4 seasons - Fall, Winter, Spring 1 and Spring - and "High" risk sports like football would be moved to the spring and "Low" risk like baseball and softball to the fall.
Bennett indicated they wanted to avoid "division" throughout the state on the issue and were hoping for the executive committee to "come up with the best plan".
The committee also voted 16-0 to petition the S.C. Department of Commerce in regards to relaxing seating capacity restrictions at games. The current regulations have capacity set at a maximum of 250 fans.