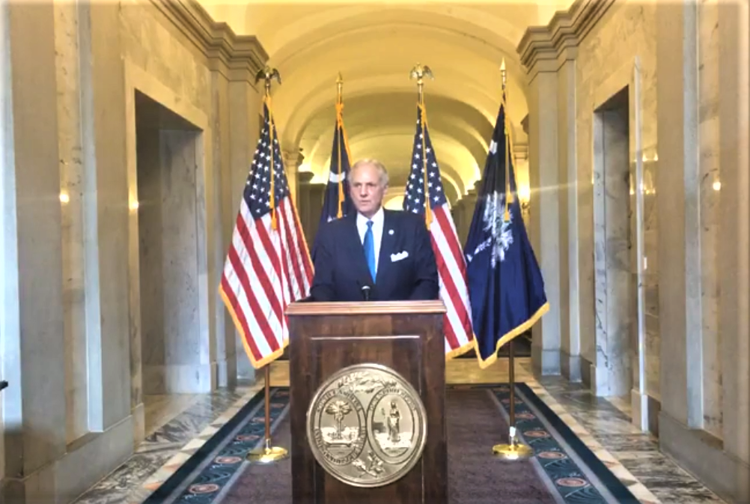 South Carolina Governor Henry McMaster held a press conference Monday to provide the latest update on the COVID-19 pandemic, along with SC Epidemiologist Dr. Linda Bell and other officials.
McMaster issued a new order, directing any and all law enforcement officers of the state, to disperse any congregation or gathering of people unless in their homes, of groups of three or more. "This would apply to parties on the beach to boisterous gatherings or concerts, or unruly gatherings in shopping center parking lots. Those are the kinds of things we've all seen," said McMaster. 
He noted that the order does not apply to law-abiding businesses or employers, and said to consider it similar to the public nuisance law. "It's difficult to draw the line, but we know it when we see it. Law enforcement officers have this authority and under this state law I'm asking them to implement it according to their discretion," he said. McMaster further explained the order does not apply to a group like a family of four walking down the street. He said it is up to law enforcement's discretion to determine which gatherings of three or more need to be dispersed.
Additionally, McMaster provided an update based on requests he made from a press conference last week. He was happy to report that many construction companies have donated personal protection equipment to hospitals in the state. There have also been 12 grocers that have created "senior shopping hours" so those at higher risk can shop for groceries without others around. 
McMaster also said there have been 91 small business administration loans that have been made by South Carolinians in just three days. 
Dr. Bell said the COVID-19 cases statewide have now risen to 295. There have been five reported deaths of patients who had been previously diagnosed with COVID-19. 
Bell noted that the nation is currently in the "initiation" phase of the pandemic. South Carolina, however, is in the "acceleration" phase, according to Bell. "This means as cases increase, it's no longer feasible to do individual contact investigations for every case. That's when we focus more on community measures, social distancing, and things like that. We no longer seek to test every person," she said.