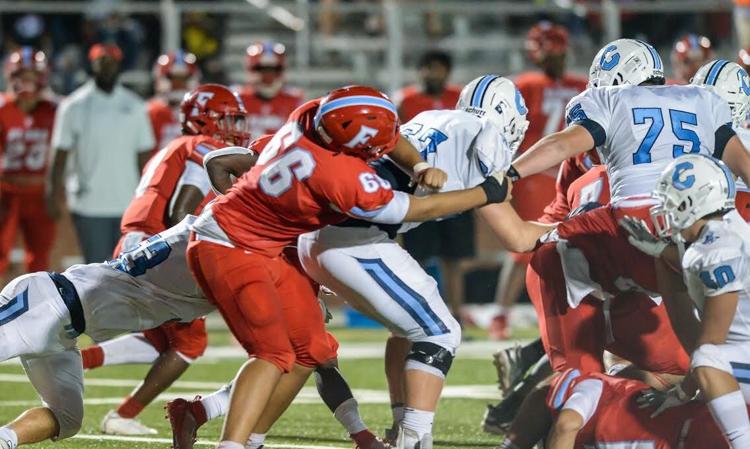 The latest SC High School Football Media Poll welcomed in three new teams from Lexington County.
Brookland-Cayce entered the Class 3A poll in eighth place, two places behind Camden, following its 41-6 season-opening win over Fox Creek. The Bearcats play host to Strom Thurmond Friday in another Region 5-3A matchup.
Both Gilbert and Batesburg-Leesville entered the Classes 3A and 2A, respectively, tied for 10th place. The Indians opened the season with a 32-13 win over Orangeburg-Wilkinson on the road, while the Panthers dropped a close 27-20 game to now fourth-ranked Gray Collegiate.
Gilbert plays host to Fox Creek, while Batesburg-Leesville plays its home opener against Eau Claire. Gray Collegiate plays host to Columbia at Midlands Sports Complex in West Columbia.
AC Flora ranked fourth in this week's Class 4A poll. The Falcons opened the season with a 44-6 win at Westwood and will play host to Richland Northeast at Memorial Stadium in Columbia.
In Class 5A, Dutch Fork remained the unanimous number one following a school-record 66-0 win over White Knoll. It was the four-time defending state champions' 41st straight game without a loss, 40th consecutive win against South Carolina teams and 24th region victory in a row.
Spring Valley placed eighth in 5A after a 17-12 win over Rock Hill. The Vikings play host to Ridge View in this week's WACH 57's Sonic Friday Night Rivals Game of the Week.
River Bluff ranked 10th in Class 5A despite being inactive after three players were exposed to COVID-19.
The Gators will open the season against Dutch Fork at home Oct. 9, a game that will also air on WACH 57 as part of the Sonic Friday Night Rivals series.
SC HIGH SCHOOL FOOTBALL MEDIA POLL
CLASS 5A
1. Dutch Fork (12)
2. Dorman
3. Gaffney
4. (tie) Fort Dorchester
5. Byrnes
6. Sumter
7. Goose Creek
8. Spring Valley
9. T.L. Hanna
10. River Bluff
Also receiving votes: Carolina Forest, Northwestern
CLASS 4A
1. Myrtle Beach
2. South Pointe
3. Greenville
4. AC Flora
5. Greenwood
6. North Myrtle Beach
7. West Florence
8. May River
9. Westside
10. Hartsville
Receiving votes:Wilson, Greer, Laurens, York, Beaufort
CLASS 3A
1. Dillon (10)
2. Wren (1)
3. Chapman (1)
4. Daniel
5. Belton-Honea Path
6. Camden
7. Chester
8. Brookland-Cayce
9. Union County
10. (tie) Oceanside & Gilbert
CLASS 2A
1. Abbeville (11)
2. Barnwell
3. Newberry
4. Gray Collegiate Academy
5. Saluda
6. Cheraw
7. Timberland
8. Chesnee
9. Marion
10. (tie) Andrew Jackson & Batesburg-Leesville
Others receiving votes-Pageland Central, Mullins