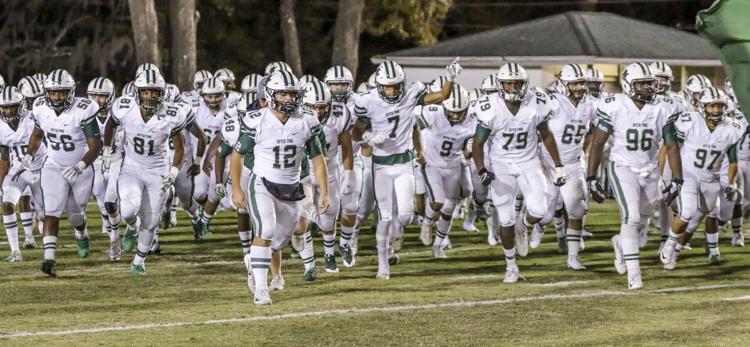 The Dutch Fork football team remains the unanimous number one in this week's SC Prep Football Media Class 5A poll.
River Bluff, Ridge View and Spring Valley all received votes in the same poll. The Gators will open the season at home Friday against the Silver Foxes.
AC Flora remained at fourth in Class 4A. The Falcons play host Friday to Irmo, which received votes, at Memorial Stadium.
Camden was fifth in Class 3A and Gilbert moved up two spaces to eighth. Fairfield-Central received votes in the poll.
The Class 2A poll consisted of four Midlands teams. Newberry, defending state champion Saluda and Gray Collegiate ranked third, fourth and fifth, respectively, and Batesburg-Leesville was ninth.
North Central, which opened the season this past Friday with a 24-10 win over Andrew Jackson, received votes in Class 2A.
SC PREP FOOTBALL MEDIA POLL
CLASS 5A
1. Dutch Fork (13)
2. Gaffney
3. Fort Dorchester
4. Dorman
5. Byrnes
6. Sumter
7. T.L. Hanna
8. Carolina Forest
9. Goose Creek
10. Northwestern
Receiving votes: River Bluff, Spring Valley and Ridge View
CLASS 4A
1. Myrtle Beach (13)
2. South Pointe
3. Greenville
4. AC Flora
5. Greenwood
6. North Myrtle Beach
7. West Florence
8. May River
9. Westside
10. Greer
Receiving votes: Beaufort, Hartsville, Wilson, Irmo, Laurens and Catawba Ridge
CLASS 3A
1. Dillon (12)
2. Wren (1)
3. Chapman
4. Daniel
5. Camden
6. Chester
7. Belton Honea Path
8. Gilbert
9. Oceanside Collegiate
10. Strom Thurmond
Receiving Votes: Aynor, Lake City, Union County, Hanahan and Fairfield Central
CLASS 2A
1. Abbeville (12)
2. Barnwell
3. Newberry
4. Saluda (1)
5. Gray Collegiate
6. Cheraw
7. Timbelrand
8. Chesnee
9. Batesburg-Leesville
10. Wade Hampton
Others receiving votes: Andrews, Central, Latta, North Central, Kingstree and Christ Church
(PHOTO | WWW.GOFLASHWIN.COM) Dutch Fork wide receiver Elliott Spencer with the catch against Chapin.