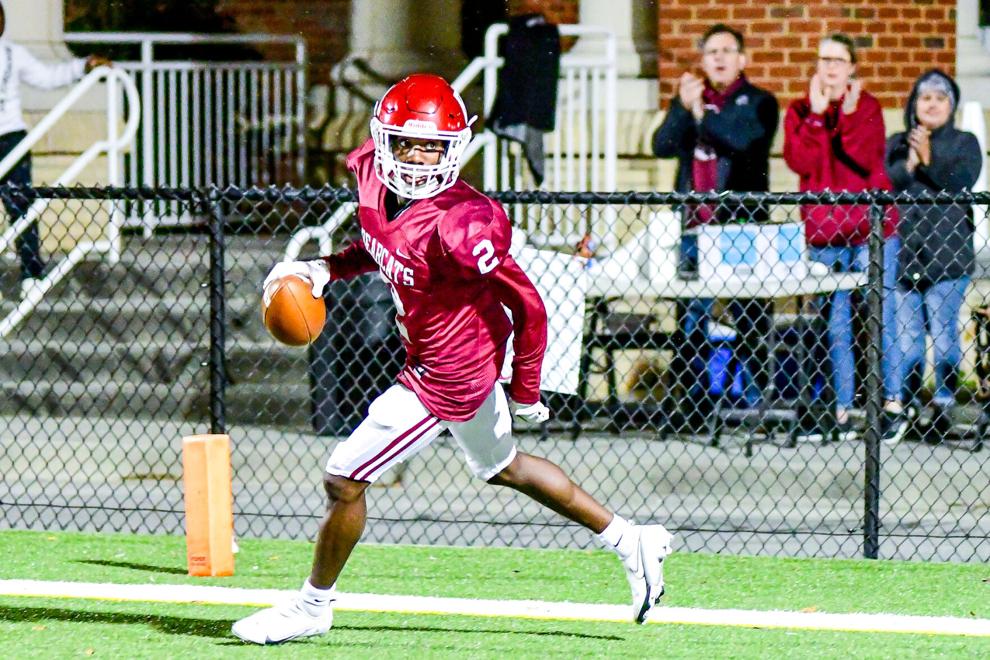 The final regular-season SC Prep Football Media poll has Midlands teams mostly ranked at or near the post-seasons they've held during the 2021 campaign.
Undefeated and five-time defending Class 5A champion Dutch Fork maintained its place atop the ranking it has held since Week 0. The Silver Foxes will start their quest for an unprecedented sixth consecutive state title Friday against Socastee.
Dutch Fork will also look to extend several winning streaks:
58 consecutive games without a loss
57 straight wins over in-state teams
30 consecutive home games without a loss
29 consecutive home wins against in-state teams
24 consecutive playoff victories (a SC High School League record)
A year ago, Spring Valley and Lexington finished with losing records and at the bottom of their respective regions. Fast forward to this week and the Vikings and Wildcats are ranked eighth and ninth, respectively, in Class 5A and will have first-round home games based on their second-place finishes.
Spring Valley plays host to Nation Ford, while Lexington invites Conway to Wildcat Stadium Friday.
In Class 4A, AC Flora finished the regular-season as Region 4-4A champion and tied with Greenwood for third in the final regular-season rankings. The Falcons begin their road to repeat Friday at Memorial Stadium against Indian Land.
Camden, Lower Richland, Brookland-Cayce and Gilbert all remained in place in the Top 10 of Class 3A and will open the playoffs at home. The Bulldogs face Bishop England, the Diamond-Hornets go up against Seneca, the Bearcats play host to Waccamaw, a game which can be heard online on The Dove 1620 AM, and the Indians will meet Loris.
Second-ranked Gray Collegiate opens the Class 2A playoffs against North Central at Midlands Sports Complex in West Columbia. Saluda, which finished second behind the War Eagles in Region 3-2A, will play host to Andrew Jackson.
FINAL REGULAR SEASON SC PREP FOOTBALL MEDIA POLL
Class 5A
1. Dutch Fork (16)
2. Fort Dorchester
3. Gaffney
4. Northwestern
5. Sumter
6. Hillcrest
7. T.L. Hanna
8. Spring Valley
9. Lexington
10. Spartanburg
Others receiving votes: Goose Creek, Byrnes, Chapin
Class 4A
1. Myrtle Beach (12)
2. South Pointe (2)
3 (tie). Greenwood
3. (tie) A.C. Flora (1)
5. Greenville
6. West Florence
7. May River
8. South Florence
9. York
10. Beaufort
Others receiving votes: Irmo, South Aiken, Laurens, Hartsville
Class 3A
1. Daniel (17)
2. Dillon
3. Chapman
4. Camden
5. Clinton
6. Powdersville
7. Lower Richland
8. Brookland-Cayce
9. Aynor
10. Gilbert
Others receiving votes: Chester, Oceanside Collegiate
Class 2A
1. Abbeville (15)
2. Gray Collegiate (1)
3. Silver Bluff
4. Marion
5. Phillip Simmons
6. Timberland
7. Saluda
8. Wade Hampton
9. Christ Church
10. Cheraw
Others receiving votes: Chesterfield, St. Joseph's, Barnwell, Andrew Jackson
Class A
1. Southside Christian (16)
2. Bamberg-Ehrhardt
3. Baptist Hill
4. Lamar
5. Whale Branch
6. Ridge Spring-Monetta
7. Lake View
8. C.E. Murray
9. Calhoun County
10. Green Sea-Floyds
Others receiving votes: Dixie, Hannah-Pamplico, Denmark-Olar, Great Falls, C.A. Johnson, Carvers Bay