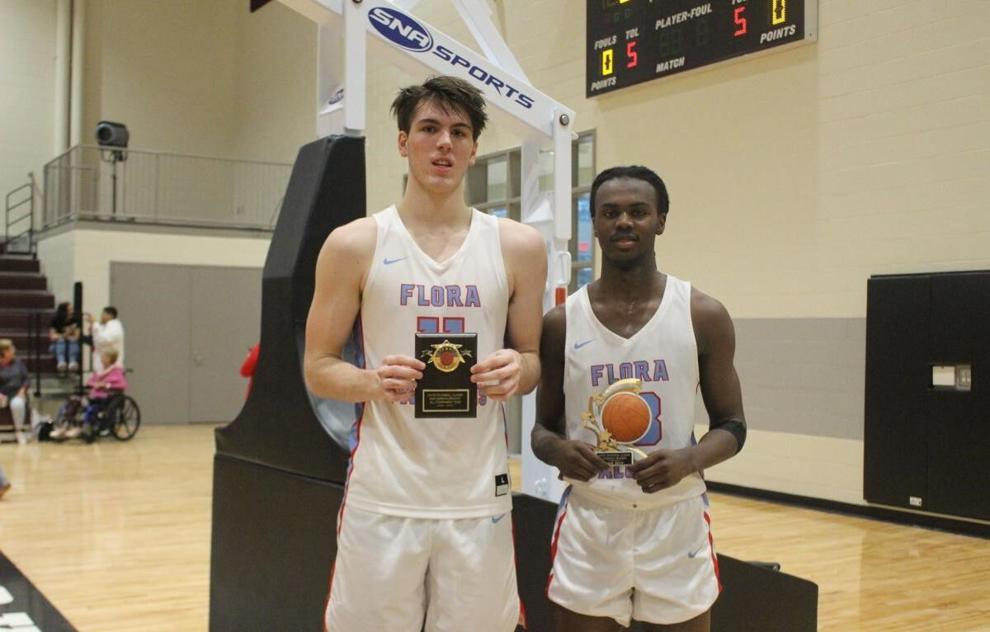 The Midlands figure prominently in the preseason SC Basketball Coaches Association polls with three defending champions.
Both WJ Keenan teams and the Gray Collegiate boys sit atop their respective Class 3A and 2A rankings.
The War Eagles opened the season Sunday by winning the Zaxby's Invitational Tournament with a 52-41 win over host team Sumter High School.
A total of 20 Midlands teams were selected to the preseason polls, while eight seniors were selected as the Elite in their respective classifications.
The Lady Raiders' Malaysia Fulwiley made the Elite Top 10 girls list for all classifications along with Lower Richland's Anala Nelson, Joyce Edwards (Camden) and Ridge View's Laila Acox.
Four Midlands players were also selected to the boys Elite Top 10 list. They were Jazian Gortman (WJ Keenan), Robert McCray (AC Flora), Julian Phillips (Blythewood), and DaVeon Thomas (Ridge View).
Preseason basketball opens in the Midlands Monday with the start of the Lake Murray Tipoff at Lexington High School. Both the old and new gymnasiums will hold two games each on opening night:
(Monday's games)
AT NEW GYM
East Clarendon vs. Batesburg-Leesville 5:30 p.m.
Lexington vs. Swansea 7 p.m.
AT OLD GYM
White Knoll vs. Mid-Carolina 7 p.m.
Summerville vs. Fox Creek 8:30 p.m.
SC BASKETBALL COACHES ASSOCIATION PRESEASON POLLS
(GIRLS)
Class 5A
1. Clover
2. Sumter
3. TL Hanna
4. Summerville
5. Ridge View
6. Rock Hill
7. JL Mann
8. Lexington
9. Nation Ford
10. Wando
TOP 5 SENIORS - Janiyah Hagood (JL Mann), Jalani Adams (Mauldin), Layken Cox (Sumter), Janae Whaley (RB Stall) and Vanessa Blake (Ashley Ridge)
Class 4A
1. North Augusta
2. South Pointe
3. Westwood
4. Greenville
5. Irmo
6. Myrtle Beach
7. Dreher
8. AC Flora
9. Travelers Rest
10. West Florence
TOP 5 SENIORS - Amber Burton (Dreher), Trinity Franklin (Greenville), Tabby Littlefield (Greer), Trinity Adams (South Pointe) and Malayziah Etheredge (Westwood)
Class 3A
1. Keenan
2. Clinton
3. Southside
4. Lower Richland
5. Daniel
6. Bishop England
7. Wren
8. Marlboro
9. Camden
10. Pendleton
TOP 5 SENIORS - De'Shanti Watts (Clinton), Sincere Hicks (Daniel), Jordan Thompson (Southside), Jamaria Sampson (Fairfield Central) and Jaiha Williams (Bishop England)
Class 2A
1. Christ Church
2. Marion
3. Saluda
4. North Charleston
5. Woodland
6. Phillip Simmons
7. Latta
8. Mullins
9. Andrew Jackson
10. Blacksburg
TOP 5 SENIORS - Mikala Logan (Blacksburg), Kalisha Hill (Saluda), Tonaja Lester (Marion), Jen'Lea Nichols (Mullins) and Moya McDuffie (Latta)
ELITE GIRLS TOP 10
Malaysia Fulwiley (WJ Keenan) Talaysia Cooper (East Clarendon), Aylesha Wade (Clover),
Laila Acox (Ridge View), Jada Jones (Rock Hill), Mallory Bruce (Travelers Rest), Anala Nelson (Lower Richland) and Joyce Edwards (Camden)