Irmo boys basketball is back in a familiar place. The Yellow Jackets throttled Lucy Beckham 59-34 in the third round of the Class 4A playoffs Monday and will play Hartsville in the Lower State championship this coming Friday at the Florence Center at 7:30 p.m.
It's the 14th time in Irmo coach Tim Whipple's career the Yellow Jackets have advanced to the state semifinals. They made it that far last season before losing to AC Flora.
"People get caught up in where you're going. This has been a journey. This hasn't been a destination," Whipple reflected after the win. "I said it many times. It's about the journey. It's about the fact that you're ready to play every single day. That's a reflection of your total work, not what you did yesterday."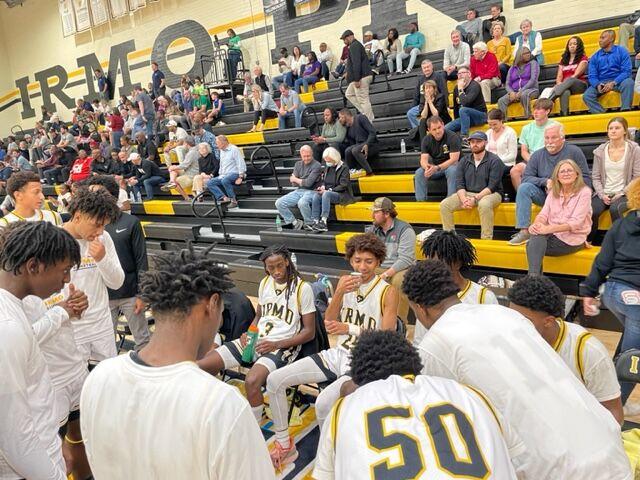 The outcome was never in doubt after the first quarter. Irmo trailed the visitors from Mount Pleasant 8-5 after the opening eight minutes but thanks to a 17-0 second quarter, they led 22-8 at the half. Lucy Beckham went almost 12 minutes without scoring and turning the run missed eight shots and suffered nine of their 14 turnovers during that stretch.
"That was phenomenal," said Whipple. "You don't shut teams out in a quarter, especially a team as good offensively as they are, and they are a very good team. They play hard and do so many good things. It's a credit to our guys being willing to go out and maintain the integrity of our defenses and then play them well."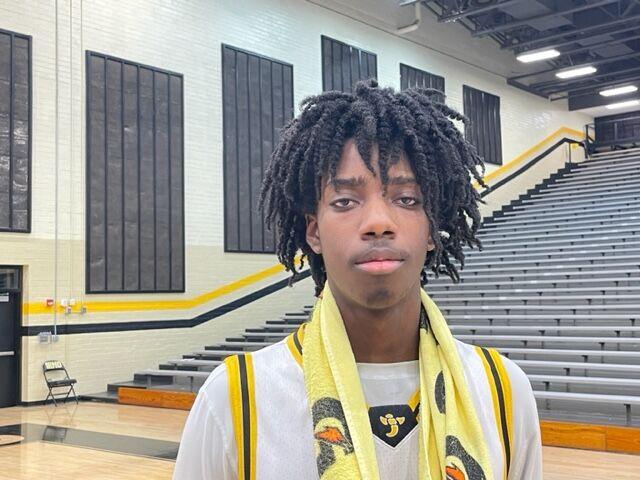 A lot of the changes had to do with Brandon Crawford, Irmo's 6'9" center and Class 4A Player of the Year. Crawford scored 15 points with six rebounds and seven blocks. But even on the shots he didn't block, he helped alter the shots and got the Bengals out of their customary offense. Lucy Beckham shot 29 percent for the game.
Crawford missed about two and a half weeks with mononucleosis during the regular season and Irmo went 3-2 during that time. They've been unbeaten since he returned, winning seven in a row.
"Brandon, without a doubt, has singlehandedly created à situation where he changes the focus of offenses and I've never had a player do that," Whipple said. "It's a credit to him, but also, he works hard. I think being sick and not being out there, he realized how much his does loves basketball and how much he missed it and that's driven him a little bit here."
Crawford wasn't alone in his outstanding play. Te'Andre Summons added 12 points and eight rebounds, Madden Collins chipped in with 12 points and six assists, Jonathan White totaled 10 points and AJ Brand contributed seven points.
"It means a lot. We lost in the next round, and we want to get that for the seniors and the team we had last year," said Crawford. "Honestly, we all started clicking, we started playing better defense and got the easy buckets on offense. We set up better and got hot."
Monday, February 20
Class 4A Boys
Upper State
Greenville 71, Catawba Ridge 60
Lancaster 54, Wade Hampton 45
Lower State
Irmo 59, Lucy Beckham 34
Hartsville 56, Wilson 41
Class 3A Boys
Upper State
Wren 62, Daniel 56
Travelers Rest 51, Clinton 46
Lower State
Crestwood 68, Lower Richland 49
Orangeburg-Wilkinson 61, Beaufort 39
SCISA
Monday
Class 4A Girls
Heathwood Hall 73, Augusta Christian 28
Northwood 45, Hammond 28
Tuesday, February 21
Class 4A Girls
Upper State
North Augusta at Pickens
Eastside at Pickens
Lower State
James Island at Westwood
Ridge View at AC Flora
Class 3A Girls
Upper State
Walhalla at Southside
Blue Ridge at Wren
Lower State
Loris at Camden, 6 p.m.
Crestwood at Lower Richland
Class 2A Girls
Upper State
Fairfield Central at Gray Collegiate
Keenan at Silver Bluff
Lower State
Kingstree at Andrew Jackson
Bishop England at Timberland
Class A Boys
Upper State
Calhoun Falls at Christ Church
Denmark-Olar at Great Falls
Lower State
Burke at Scott's Branch
Baptist Hill at Estill
Wednesday, February 22
Class 5A Boys
Upper State
TL Hanna at Lexington
Dorman at Fort Mill
Lower State
River Bluff at Conway
Goose Creek at Summerville
Class 5A Girls
Upper State
Lexington at Mauldin
Dorman at Spring Valley
Lower State
Stall at Sumter
Summerville at Stratford
Class 2A Boys
Upper State
Columbia at Keenan
Eau Claire at Gray Collegiate
Lower State
Woodland at Andrew Jackson
Mullins at Oceanside Collegiate
Class A Girls
Upper State
St. Joseph's at High Point Academy
Denmark-Olar at McBee
Lower State
Lake View at Carvers Bay
Military Magnet at Allendale-Fairfax
Friday, February 24
Class 4A Boys
Upper State at Bon Secours Arena in Greenville
Greenville vs Lancaster
Lower State at Florence Center
Hartsville vs Irmo
Saturday, February 25
Class 3A Boys
Upper State at Bon Secours Arena in Greenville
Travelers Rest vs Wren
Lower State at Florence Center
Orangeburg-Wilkinson vs Crestwood