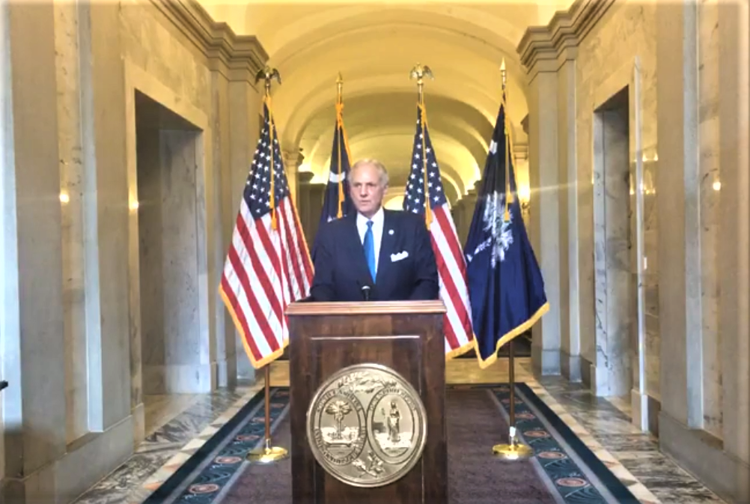 Governor Henry McMaster held a press conference Wednesday, announcing the latest COVID-19 update for South Carolina. The press conference began with State Epidemiologist Dr. Linda Bell expressing her concern regarding the large amounts of COVID-19 cases within the state over the past couple weeks.
"I have to say, today I am more concerned about COVID-19 in SC than I have ever been before," she said. "We are all eager to return to our normal lives, our 'new normal,' but it will take us that much longer to get there if we don't stop the virus together."
There were 528 new COVID-19 cases and seven additional deaths in the state, as of Wednesday.
McMaster  that South Carolinians should take Bell's information "to heart" and be careful. "This virus is with us, it's not going to disappear," he said. However, he also expressed concern for South Carolina's economy, noting that he realizes businesses cannot stay closed forever.
There are a few recommendations McMaster said he and the AccelerateSC task force have created for legislature.
According to McMaster, he will be recommending an unemployment insurance trust fund. "What we're asking the General Assembly to do is from that $1.9 billion (Coronavirus Relief Fund), provide at least $500 million into that trust fund. That will almost bring us back up to level," he said.
Additionally, he is recommending $215 million be used to reimburse public school districts to provide five additional days of classroom instruction before the school year begins in the fall. McMaster said it will be to help the students get up to "full speed" so they'll be ready to enter into the new school year.
Lastly, McMaster said he will recommend $215 million be directed toward reimbursement of legitimate COVID-19 expenses incurred after March 1 for state agencies, first responders, hospitals, etc.
"Those are our plans at this time," he said.
He also said he has no plans for additional business closures, however he will be extending the current state of emergency, due to the continued large numbers of coronavirus cases.
Although some suspected McMaster may open up additional businesses that are still closed (such as movie theaters, bowling alleys, concert venues), there were no announcements of that kind. However, he said they are hoping to make some "good decisions very soon" regarding the reopenings.