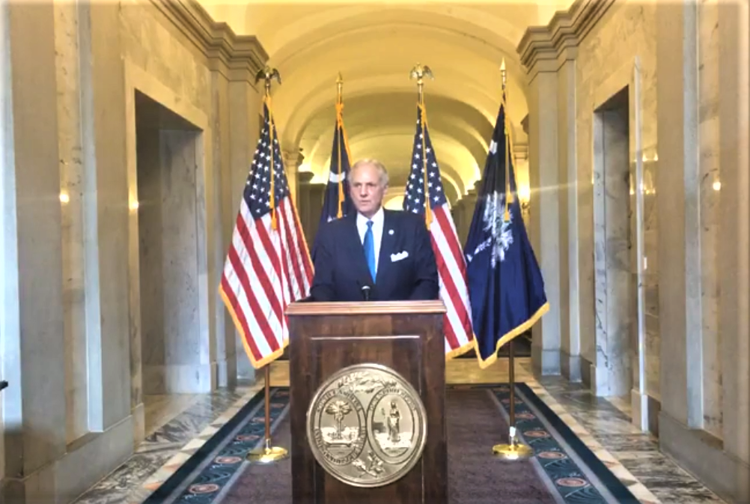 South Carolina Governor Henry McMaster along with state epidemiologist Linda Bell held a press conference Wednesday to provide a COVID-19 update and urge the public to act responsibly during the Fourth of July weekend. 
"We must get these escalating numbers under much better control. To do that, each of us should make an intentional effort, wearing masks and social distancing," Bell said. "In a way, this pandemic is challenging us to consider our duty to one-another, a duty that requires us to look out for the wellbeing of others, despite the sacrifice that's being asked by us all." 
Bell noted that COVID-19 numbers began to increase after Memorial Day weekend in May and have since continued to rise. She stressed the risk of cases rising "to the levels that none of us could have previously imagined" after this weekend, if South Carolinians are not careful. 
McMaster said he knows everyone wants to get out and celebrate Independence Day, but that it is a "dangerous opportunity" to spread the virus. He specifically referenced the danger of young people who may be unknowingly carrying the virus, choosing to ignore social distancing guidelines. 
Although McMaster did not implement any additional executive orders, he said the current closures of spectator sports venues, movie theaters, concerts, performing arts venues, race tracks and night clubs are to remain in place.
There will be consequences, according to McMaster, if the numbers continue to spike. "If these numbers continue to rise, if we continue to see this type of danger, I will have no choice but to keep these restrictions on crowds and gatherings in place," he said. "That means this fall will not be like other falls, we will not be able to have high school football, college football, or concerts." 
There were 1,497 new cases of the coronavirus Wednesday and 24 additional deaths. This was the highest daily number of COVID-related deaths thus far.