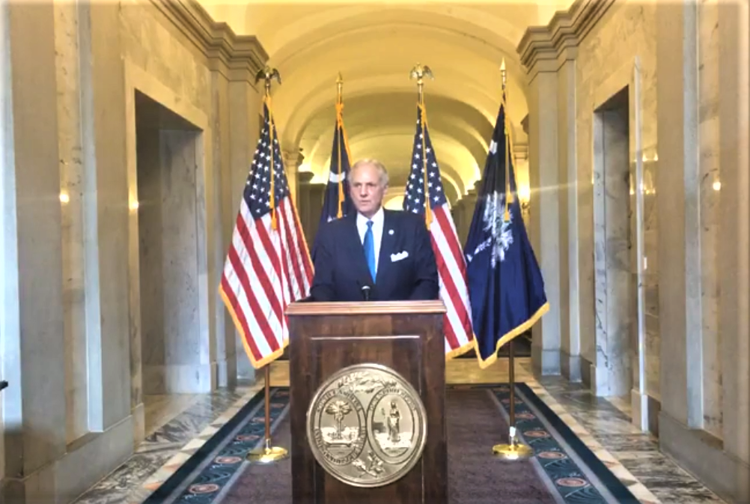 Governor Henry McMaster held a press conference Wednesday to provide a COVID-19 update for South Carolina. 
He began by announcing a few new mandates for restaurants which include only allowing a 50% capacity, requiring masks to be worn by employees and patrons, only eight people at a table unless all from the same family, and no congregating or standing at a bar.
He then announced an update for businesses that have still been closed since the onset of the COVID pandemic.
"You can't keep businesses closed forever," McMaster said as he referenced his previous executive order which closed venues/businesses where larger numbers of people were typically present.
Starting Monday, these types of businesses/events will be allowed to reopen/take place:
-parades
-concert arenas
-theaters
-auditoriums
-amphitheaters
-gymnasiums
-chambers
-assemblies
-concert halls
-night clubs
-performing arts centers
-racetracks 
-any similar entities 
However, there will be restrictions in place for the businesses upon the reopenings:
-attendance may not exceed 50% occupancy or 250 people - whichever is less
-customers, participants and employees must wear face coverings
-the sale of alcohol shall still end as previously announced, at 11 p.m.
There are exceptions to the occupancy restrictions according to McMaster, like gatherings of state, county or municipal governments, and K-12 schools.
Additionally, gatherings like football or Columbia's Soda City Market could be exceptions to the 250 person rule under certain circumstances, and if approved.
"There is an exception for things like football. Go to the Department of Commerce and explain how you're going to do it, promise you'll do it that way, and if you don't do it like that you will be punished," he said. 
State Epidemiologist Dr. Linda Bell spoke at the press conference, referencing the 1,666 new coronavirus cases as of Wednesday. She reiterated the importance of continuing to wear a mask and maintaining social distancing.
"We are not going to close down South Carolina. We have taken a measured, steady approach and we're not going to go back to that. We don't need to, as long as we heed these safety measures," said McMaster.
He also acknowledged that he's aware there will be criticism following his decision. "These measures are likely to be criticized. That's alright. In the long run we are confident these things will work," he said.