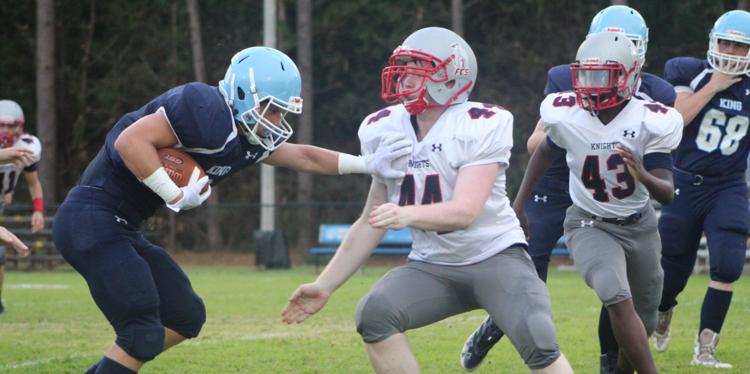 In the "Battle of the Knights", it was a good night for host team WW King Academy and running back John Roy.
Roy accounted all of his team's points in the 16-8 victory over Faith Christian in the SCISA eight-man season-opener. He scored twice, including the game-winner with 8:16 left, and had two, 2-point conversions in finishing with 130 rushing yards.
Defensively, Clayton Turner had 22 total tackles, 16 solo, and Drake Amick had the game-clinching fourth down tackle of Josh Smalls.
Roy capped a six minute, 37 second opening drive with a 21-yard touchdown run. After his two-point conversion run, WW King held an 8-0 lead through halftime.
After both teams exchanged turnovers, Faith Christian tied the game on a three-yard touchdown run and two-point conversion by quarterback Ethan Hayes.
The ensuing kickoff was short and fielded by Ben Sauls who returned it past midfield. A long run by Roy set up his second score from 12 yards and two-point conversion for the lead.
Faith Christian was forced to turn over the football on downs with 1:41 left. WW King managed to run out the clock for its first season-opening win since 2016.
WW King heads to Estill to face Patrick Henry. It's the first meeting between the two teams since the 2017 playoffs, a game won by the Patriots 60-48.
Andrew Jackson Academy 48, Northside Christian 16
The Crusaders played a close first half against the defending SCISA eight-man champions.
After falling behind 18-0 in the first quarter, Northside Christian responded with 16 straight points on a touchdown pass by Max McKenna to Charlie Compton and a Luke Cochran score on special teams to close the gap at halftime. The Warriors responded with 30 unanwered points in the second half to win their 13th straight game and 59th in the past 60 contests.
The Crusaders will play their next two games on the road, starting Sept. 4 at Newberry Academy.
Hammond 35, Ben Lippen 7
Jack Weston rushed for 112 yards and a touchdown and Whit Muschamp threw a touchdown as the defending SCISA Class 3A champions opened the season with a road victory.
Chase Martin threw an 80-yard touchdown pass to Chandler Brooks for the Falcons' lone score.
Heathwood Hall 21, Laurence Manning 14
The Highlanders held off a late rally by the Swampcats for their first win of the season.
Heathwood Hall jumped out to a 21-0 lead after two rushing touchdowns by Ronnie Porter and a 20-yard interception return by Josh Gary.
The Highlanders' defense recovered three fumbles in the first half.
Richard Winn 47, Conway Christian 0