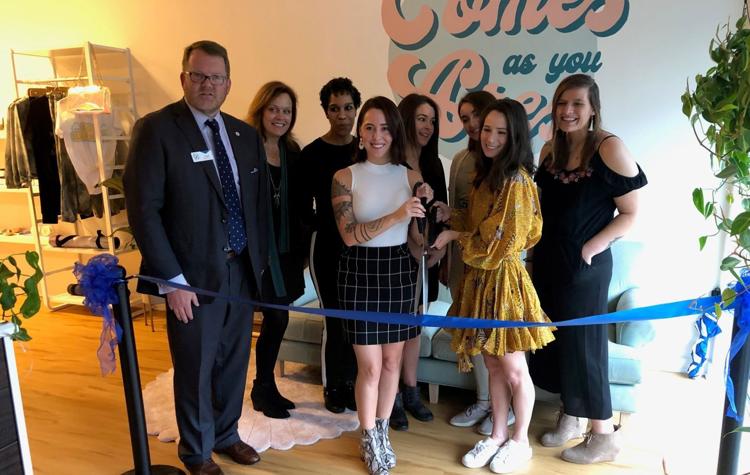 Kelly Holbrook, 29, and Hannah Bratcher, 27, were surrounded by friends and supporters as they cut the ribbon on their new business Tuesday in Columbia. The Well Collective is a collaborative space to energize the mind and body through holistic care. The space houses Studio Fire, The Well Cafe, an in-house massage therapist, esthetics, and a boutique.
Holbrook said holding their grand opening was a surreal experience. "The Collective has been a dream for a really long time. I used to work from home and was behind my computer screen 24/7, and I felt like I just needed a space where I could come and connect," she said. "We're so honored to be a part of this community."
The cafe is open from 7 a.m. to 2 p.m. weekdays, and 8 a.m. to 2 p.m. on the weekends. According to Holbrook, it is a plant-driven cafe that offers wellness lattes made with non-dairy milk, and vegan pastries from The Good Life Cafe.
Studio Fire is known as a "mindful movement studio," offering classes like hot yoga using an infrared heating system, and fusion-style classes.
President and CEO of the Columbia Chamber, Carl Blackstone, congratulated Holrbook and Bratcher on their grand opening. "You are still really young to do this, which is even better. It just provides an energy for Columbia that is so needed. We are so excited as the chamber to partner with The Well Collective," he said.
Holbrook said the space is meant to be all-inclusive and welcoming for everyone. "Our unofficial slogan is 'Come As You Are.' We want to meet you where you're at, wherever you are in your health and wellness journey, so you are welcome here," she added.
The business is located at 3000 Rosewood Drive. More information can be found on the Well Collective's Facebook page.