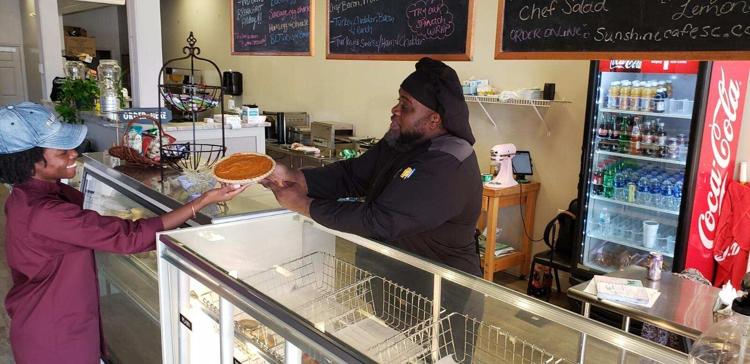 Sunshine Café owner Shutondia Culcleasure was forced to close her restaurant in March due to COVID, just three months after the grand opening.
Although she briefly reopened in the summer, Culcleasure said it was an unsuccessful attempt, with few customers knowing and not much activity in the Westland Shopping Center at the time. However, the West Columbia restaurant recently opened its doors again in the fall and has begun to see an increase in business.
"When we tried to reopen in the summer, it was difficult to stay open and build that momentum back. This fall, we decided we were going to gear up for it and put our boots back on, ready to hit the ground running with our holiday specials," she said.
In addition to the café's popular bagels and paninis, there will be a new list of hot sandwiches, soups, and Sunday dinner specials like smothered turkey wings in mushroom sauce, or cajun-crusted Cornish hen. The Sunday dinners can be made for take-out or a personal plate prepared for dine-in.
A variety of holiday dessert specials are made in-house including banana cream pie cheesecake, grandma's sweet potato pie, coconut pie, island coconut pie, and red velvet cake. Desserts can be bought by the slice, or a list of holiday desserts are available by the whole cake or pie.
Culcleasure said they are also hosting a chef from Seattle who is helping Sunshine Cafe tie in some of their new home-style meals in a modernized way. "We've taken a lot of our customers' feedback in," she said.
Watching patrons come back in to the café since the reopening has been quite encouraging and exciting, according to Culcleasure.
"To have to put yourself completely back out there and no one bite all summer long was just like, do I just pack up and go home? It was such an uphill journey," she said. "But to have my family backing me in every possible way, and then to see customers keep coming, it just makes my heart really warm up. It's like a re-grand opening."
The restaurant is located at 2250 Sunset Blvd. Additional information, including the weekly Sunday dinner specials, can be found on Sunshine Café's Facebook page.