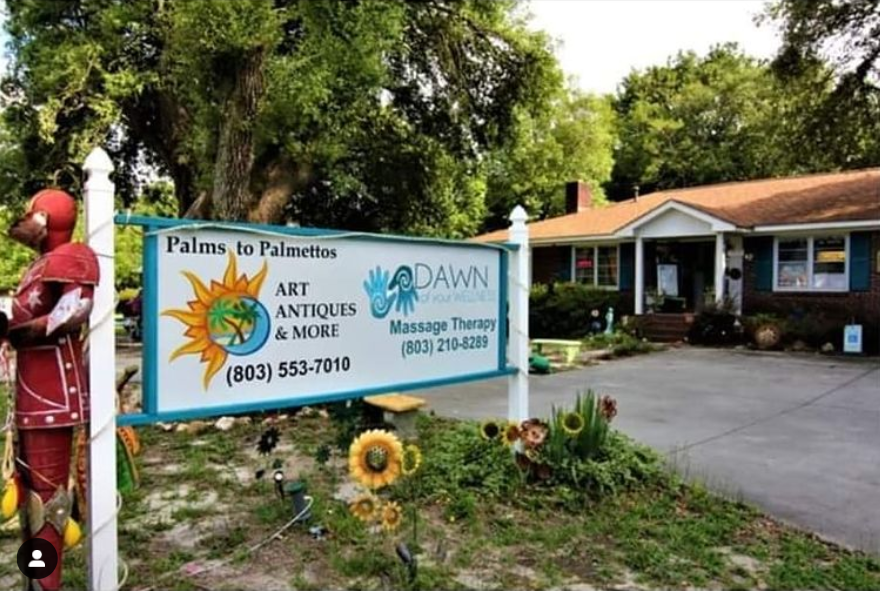 Palms to Palmettos, the eclectic art gallery and shop at 3357 Leaphart Road in West Columbia, has been closed to the public since March of 2020.
Owners Edie Enright and Dawn Ridge initially closed due to COVID-related restrictions, like many other Midlands stores. Enright and Ridge, who are partners in business and in life, also underwent big changes themselves during the time off including building a new home. However, they have now excitedly announced that their store will be reopening its doors to the public July 20.
"We're just two people trying to do it all," Ridge said. "We're like, we really have to get open again. We get call after call from people asking and it's like, I'm coming, I'm coming!"
Palms to Palmettos first opened in 2014. Enright is the artist whose work is on display and for sale in the gallery. Ridge is a massage therapist and Reiki practitioner with her business, Dawn of Your Wellness, also located in the building. Enright described their space as a metaphysical store. They sell items ranging from crystals, candles and CBD products, to incense, jewelry and Bohemian style clothing.
Enright said they are really looking forward to welcoming the community back into their facility.
"It seems like it's been way longer than a year and a half. We're very excited to get back to some normalcy, and get back into the routine and have everything back in place," she said.
The couple will also be welcoming an additional business upon reopening. Symphony of Aromas, owned by Irene Cervantes, will have a space inside the store offering a variety of all-natural ingredient products like essential oils, soaps, bath bombs, lip balms and skin products.
Additional vendors will be able to rent out a climate-controlled shipping container for pop-up business that will be on the property beside Palms to Palmettos.
One of the projects Ridge and Enright will be working to expand upon is their outdoor "community sanctuary garden" beside the building. They said their hope is for it to eventually become a place where vegetables and herbs will grow, readily available for customers to grab when desired.
"On the 17th we're having a community garden cleanup day. I'm telling people to bring a flower if they'd like something to be planted," Ridge said. "We plan to make a vegetable and herb garden. If they [customers] need tomatoes, they can get tomatoes."
Palms to Palmettos will hold a soft opening July 19 from 4 to 8 p.m., followed by the official grand reopening the next day. The business will be open Tuesdays through Saturdays from 11 a.m. to 6 p.m. Business owners interested in renting the shipping container space may call Enright at 803-553-7010. Those interested in booking a massage or Reiki appointment with Ridge may call 803-210-8289.
Additional information can be found on the Palms to Palmettos Facebook page.