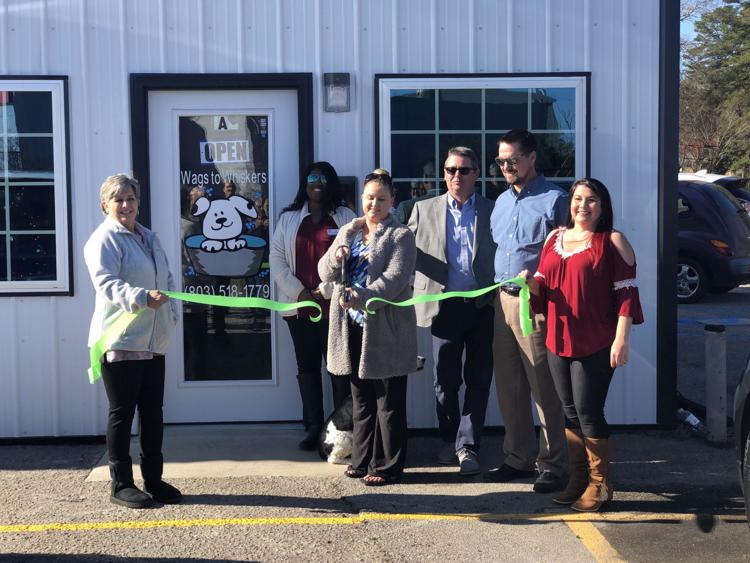 A new West Columbia business welcomed four-legged customers and their humans to 1301 C. Avenue Thursday morning. Wags to Whiskers held its official ribbon cutting, hosted by the Greater Cayce-West Columbia Chamber of Commerce.
After working at Lazy Creek Pet Food Center in Lexington for eight years, Michelle Blackman decided to create her own dog-care business in West Columbia. Since opening Wags to Whiskers, she said the response has been positive. "Moving to West Columbia, it's a whole new animal – and I was working for someone else – now it's solely me," she said. "So far, it's been really good. Everyone who has come to see me has come back."
According to White, her business offers "anything and everything for dogs." This includes bathing, grooming, nail trimming, brushing, handling puppies and senior dogs. "I just don't do cats anymore," she laughed. "I gave that up eight years ago, I served my time."
White said she is known for handling aggressive breeds and "nervous nellies."
Executive Director of the Cayce-West Columbia Chamber, Richard Skipper, said they are excited to have the new business in Triangle City. "These sole proprietors in West Columbia and Cayce are the heart and soul of our chamber," he said. "I really think this building has a lot of potential, it's crazy that it used to be a car wash, now we have three small businesses operating out of it."
Wags to Whiskers accepts clients by appointments only, from 7 a.m. to 7 p.m. Tuesdays through Saturdays. More information can be found on the company's Facebook page.