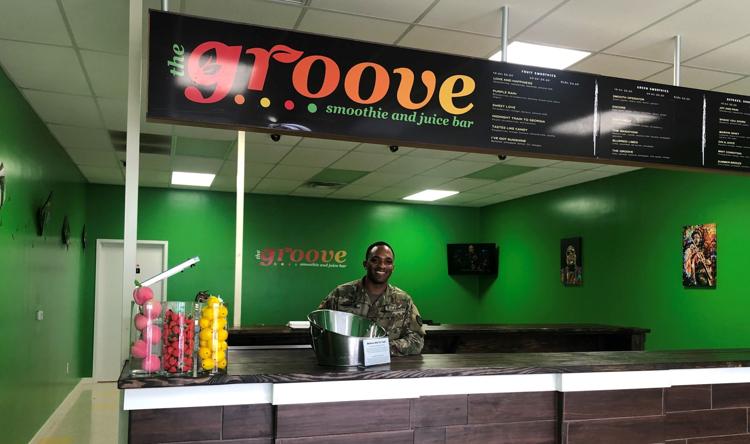 Columbia welcomed a veteran-owned smoothie shop in November which ties together health and nostalgia to create a place for customers of all ages to enjoy freshly made treats.
Owner, Darius "DJ" Johnson, former serviceman in the U.S. Army opened The Groove Smoothie and Juice Bar in November after spending close to three years bringing the dream to life. Upon arriving to the United States from his deployment to Kuwait, Johnson worked at the McEntire National Guard Joint Base. He recounted having to drive out to Garner's Ferry for one of his favorite treats, a smoothie.
Johnson had the bright idea to combine his two favorite things: smoothies and old-school music. He began drawing up a business plan that could successfully marry the two.
"This has been about three years in the making," said Johnson when explaining the planning process of the smoothie bar. Johnson credited his military background for providing him with skills to build his business. "The military gave me structure, discipline and taught me how to manage my time, which equipped me to step out on an entrepreneurial venture," he explained.
As a child, Johnson delivered newspapers and during his routes, he would listen to music from the 70s, 80s and 90s. "I really like old school music, it taught me a lot growing up. The music was filled with soul and it had purpose and substance," said Johnson. Inspiration for his menu item names came from classic hits like Prince's "Purple Rain" and Gladys Knight's "Midnight Train to Georgia."
Health is also a key factor in Johnson's daily lifestyle. "I want people to be health conscious," he said as he expressed his appreciation of the health-driven choices among young people today. Johnson's hope is that customers of all ages will choose to make healthier decisions in their diets, and he wants The Groove to be a place where people can enjoy a fresh treat and bond over music.
The Groove Smoothie and Juice Bar is open Monday through Friday and offers a 10 percent discount to military, educators and first responders daily, and a special 20 percent discount for Military Mondays. It is located at 7510 Garners Ferry Rd. For more information visit The Groove's Facebook page.