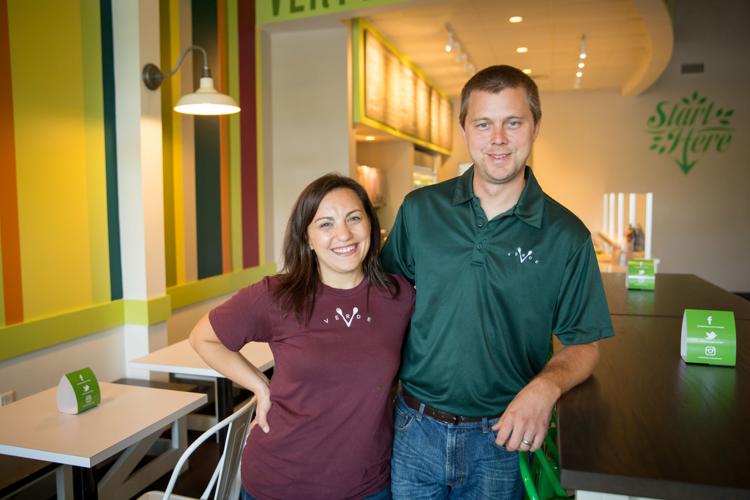 Anyone who considers salads to be a side dish has never eaten a salad from Verde. The Charleston-based business has officially made its way to Columbia in Trenholm Plaza, opening just five days ago.
Jen Ferrebee and her husband Sam first began the Verde concept nine years ago. "My husband and I were busy young professionals at the time, and fast-casual wasn't really happening yet. We wanted really good food, and especially healthy food," said Ferrebee. "At the time if you wanted a salad, you were only going inside a restaurant to be seated and served, or you were doing salad by weight at a grocery store, which I hate. We thought this seemed like something we would enjoy."
Verde offers over seven different salad bases like mesclun mix, kale, etc. Then, there are more than 40 toppings to add to the base, along with more than 13 handmade dressings ranging from traditional options like caesar to the more unusual like a sweet tea vinaigrette. 
Customers can build their own salad, or choose from 12 signature creations. Once the salad is made, guests decide if they want it chopped or tossed, and get a choice of dressing mixed in or on the side. The creation is put into a 48 oz. bowl with a lid, and can be eaten in-house or to-go. Any salad ingredients can also be made into wraps. 
Even though Verde hasn't been open long in Columbia, Ferrebee said the response has been very positive. "It's so exciting. This is such a strange time to open a restaurant, so this is a nice bright spot in what's been a crazy time," she said. "We feel so grateful people are coming out amidst a pandemic." 
Ferrebee said COVID-19 safety precautions are in place including floor markings for customers to stand while waiting to order, employees wearing masks and gloves while making the food, and distancing the tables inside. There's also outdoor seating available along with a "parking lot patio."
Verde is located at 4840 Forest Dr. The store is open Mondays through Saturdays from 11 a.m. to 9 p.m., and Sundays from 11 a.m. to 5 p.m. More information can be found at eatatverde.com.