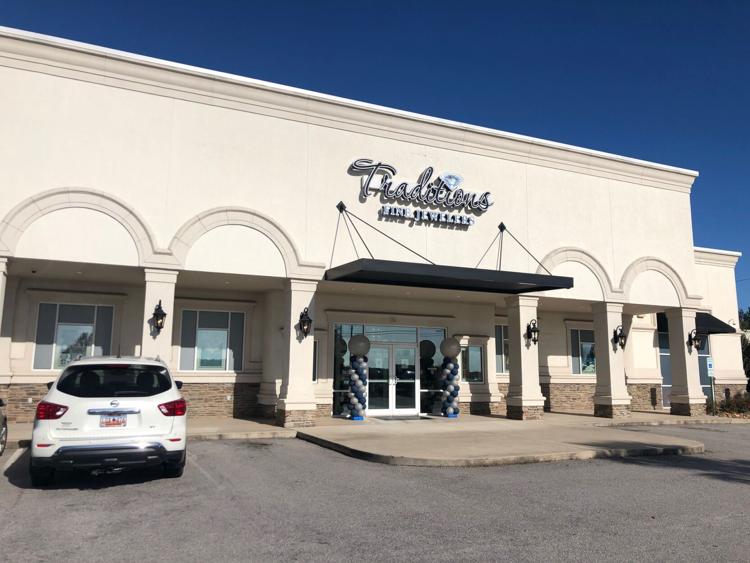 Supporters, staff and Lexington Chamber members gathered Monday morning to celebrate the ribbon cutting at Traditions Fine Jewelers in Lexington. Owners John McNeill and George Prout bought the assets to the former Jewelry Warehouse and revitalized the space, which held a final closing sale from November of 2019 through February.
Jewelry Warehouse's owner Scott Satterfield, who now acts as the consultant for Traditions, said there are some things that have stayed the same with the opening of the new business.
"Traditions will have far, far more merchandise than the last several years of Jewelry Warehouse," he said. "But they've taken a lot of Jewelry Warehouse's previous policies like loyalty points and gift cards even, and allowed people to have them there. The staff has about 10 people who have been here more than 15 years, so when people come in, they'll see familiar faces."
In addition to the wide variety of jewelry, customers can also shop for anything and everything related to the Carolina Gamecocks. Gamecock Traditions is located in a second room under the same roof, offering t-shirts, hoodies, and other USC merchandise (along with a section for Clemson fans, too).
Satterfield said it was very satisfying for him to see the building reopen under the new ownership. "What he [new owners] did for me and for the staff, I could never thank enough other than make sure the store is good, profitable and that he looks at it and says, 'I'm glad I did what I did,'" said Satterfield.
His wife passed away in 2016 from cancer, and she previously maintained the store's online presence. Satterfield said it's "extremely cool" to see that his daughter has now stepped into that role for Traditions.
The store is currently offering a variety of free gifts with a purchase. "Normally before Christmas, people are buying electronics and toys," Satterfield said. "So we looked at it and said, you know, why not tie the two together and get both an electronic and jewelry?" Gifts range from a Ring Doorbell with the purchase of $999 or more, to a 65 in. Smart TV with the purchase of $2,999 or more.
The business is located at 5134 Sunset Blvd. Additional information can be found on the company's Facebook page.