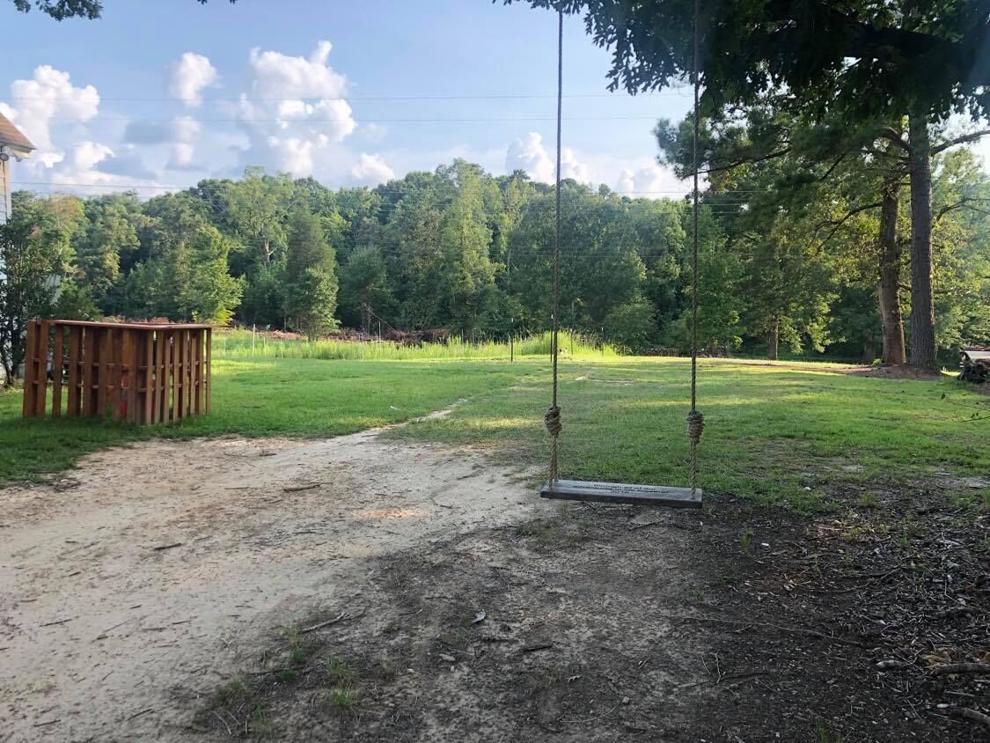 Running a 34-acre farm isn't always an easy job, but it's a job Brett and McKenzie Flashnick have decided to take on with open arms. The couple officially inherited the Lexington property in 2018, becoming the eighth generation of Brett's family to take ownership of the farm. They have cleared land, cleaned out a farm house and four barns and planted gardens to prepare for the big plans they have.
Brett said they thought a lot about their young son while figuring out exactly what they wanted to do.
"We wanted him to have the same life experience growing up out here - running in the woods, playing. I grew up here with my grandparents every afternoon," he said. "So, to preserve this, and give him the opportunity to experience it as well, we started running through scenarios of how it could work."
The Flashnicks will soon introduce The Farm 1780 to the public as an operational farm and event venue. Brett said he knew if they were to keep the property in the family he wanted to create a way for it to be profitable, while providing a beneficial addition to the local community.
"If I wasn't so stubborn I'd probably say, let's go ahead and sell it," he said. "I knew if we sold it, there would just be another neighborhood here. Not that that's not an important need for the community, but I think diversity is important."
The venue will be available to rent in the fall. Weddings, family reunions, and corporate events will all be possible on the property, which can fit up to 375 people. Ceremonies can be conducted in a clearing in front of the pond, or in front of a cluster of tall magnolia trees. Covered areas with café lighting complete with a vintage tractor will provide space for receptions. McKenzie said there will be a bridal suite, grooms' lounge, prep kitchen and large tasting room in the main farm house. Guests who decide to rent the farm for the weekend can have overnight accommodations for four people, plus two spots for RVs.
Although offering the farm as a venue is a huge undertaking, they have much more in store. The property will also still serve as a working farm. There are more than 85 chickens producing eggs daily, multiple gardens growing a variety of seasonal produce, and Brett said in the future they will likely bring in livestock.
"Some of the other farms around the area aren't really working farms. I think during a recent wedding, there was a rooster that crowed when they asked if anyone had any objections," he laughed. "It's a really authentic experience."
They plan to open a roadside stand by the entryway to sell seasonal produce and fresh eggs. The stand will be open Tuesdays through Thursdays, and Sundays. There will be a farmers' market on the property one Thursday every month from 4:30 to 6:30 p.m., with additional local farmers selling produce from their gardens.
The Flashnicks will also be hosting a variety of free and ticketed events on the property. McKenzie said one of their main goals is to offer a family-friendly space where people can feel comfortable gathering. One of their first events is a Harvest Festival Oct. 9, which will also serve as the farm's official grand opening.
Other potential future plans include farm-to-table dinners, pick-your-own-eggs brunches and pop-up restaurants.
The property is located at 1127 Corley Mill Rd. Additional information can be found on The Farm 1780's Facebook page.