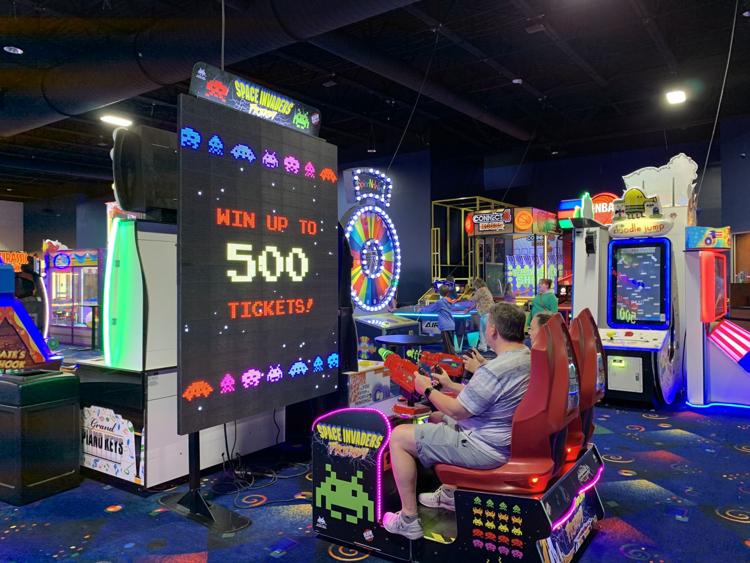 The Irmo area has a new place for fun for all ages, and it arrived with a Saturday afternoon surprise.
Stars and Strikes Family Entertainment Centers opened the doors to its newest location at 800 Lake Murray Boulevard, at the Columbiana Boulevard intersection.
The huge new play palace will host a grand opening celebration March 14, but management decided to announce a sneak preview via Facebook, and a sizable crowd came out to explore.
"We just saw it driving by and decided to check it out, and we're having so much fun," said Kim Jardine as she paused between video games. "There's just so much to do!"
Stars and Strikes, which has 17 other locations across the Southeast, definitely offers plenty of options. As the "strikes" part of the name implies, there is a large bowling alley, featuring the latest technology and many giant TV screens, but that's only the beginning.
The arcade offers dozens of games from classic to cutting edge, and walking through reveals even more treasures, like bumper cars and laser tag. For those who'd prefer to focus on food, or take a break after working up an appetite, Stars and Strikes offers not a mere snack bar, but a full service restaurant with American classics on the menu, as well as a full bar.
The Stars and Strikes Irmo grand opening is set for Saturday, March 14 from 10 a.m. until 4 p.m., with special deals and giveaways. A live DJ party will follow starting at 8 p.m.. More information is available at starsandstrikes.com.