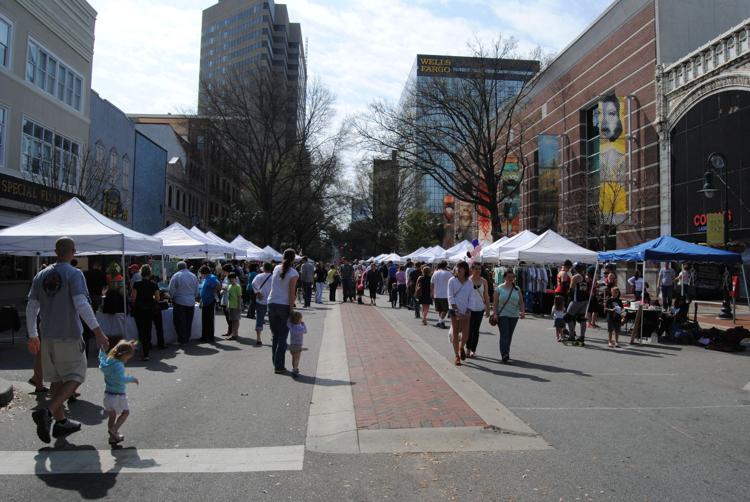 Soda City Market, a Saturday morning staple in Columbia, has been the place for artisan vendors to display their crafts and food for 15 years. Rain or shine, vendors bring their products and set up under tents that line Main Street for several blocks. However, due to the COVID-19 pandemic the market has been temporarily closed since March 12, but it was announced via social media Soda City will be reopening Saturday. Adjustments will be put in place to maintain the safety of both the vendors and patrons.
Hippy Do Dah Creations, a jewelry vendor owned by Chris Marshall, will be one of Soda City's multiple vendors appearing at the market.
Marshall voiced her excitement to soon be back on Main Street. "We have truly missed our market family and friends and we're beyond thrilled to see those beautiful, familiar faces this Saturday," she said. Marshall will require customers to use hand sanitizer before touching merchandise, and will employ a touchless payment system for card transactions.
Jean-Louis Ledent, a co-owner of The Belgian Waffle Truck, admitted he is both excited and nervous to return.
"Our staff and customers' security is our number one priority," he said. Ledent will be setting up a preorder system to avoid long wait lines, and to help maintain social distancing. The staff will be wearing gloves and masks inside the truck and will serve all orders in closed to-go boxes.
Along with the personal measures vendors are taking to ensure safety, Soda City released an official document Thursday morning, listing requirements for the reopening.
Expectations of guests include limiting the number of family members that come to the market (one per family suggested), practicing social distancing by remaining six feet away from others, refraining from bringing bags from home, and wearing a mask as ordained by the City of Columbia. Although the market is known for being pet-friendly, it is suggested that guests leave their non-service pets at home.
Similar behaviors are expected of vendors, who are required to wear masks and gloves, and are prohibited from serving unwrapped food samples. Vendors are also encouraged to set up a pre-pay system and have contactless payment available.
The full list of guidelines provided by the city is available HERE.
Despite the "new normal" that will be in effect, vendors said they are willing to make the necessary changes.
"We are eager to make it all work so that Soda City can remain a safe place for our amazing patrons to visit and enjoy Columbia's beautiful Main Street district," said Marshall. Ledent expressed a similar opinion, adding that he will do everything to operate safely, and hopes the customers will do their part as well.
Soda City Market is open Saturdays from 9 a.m to 1 p.m., and features vendors selling everything from arts and crafts to food and drinks. Since it began in 2005, the market has grown in both popularity and size.
Additional information can be found on Soda City's Facebook page.