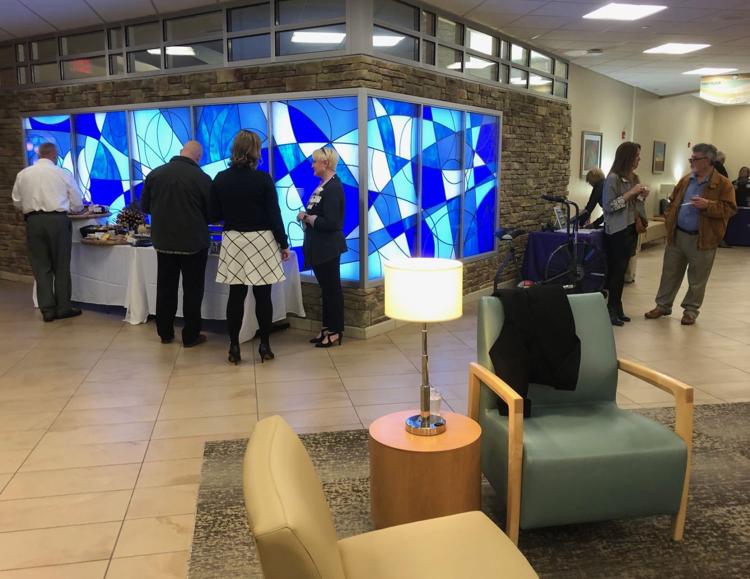 Blythewood Chamber of Commerce members ventured outside the town limits Thursday night to learn more about the recently expanded services at Providence Health-Northeast hospital.
The 74-bed hospital just off Farrow Road and I-77 hosted the chamber's "Blythewood After 5" event to showcase its growth in recent years under new ownership.
"We've always had a strong relationship with the Blythewood Chamber, and this was a nice opportunity for people who haven't been here in a while to see what we have to offer," hospital CEO Joseph Bernard said. "Since 2016 we've changed from an orthopedics specialty hospital to a more straight-legged community hospital. The community needed other services."
In addition to orthopedics and an emergency room, hospital services now include 24/7 cardiology, cardiopulmonary rehabilitation, diagnostic imaging, ear nose and throat procedures, gastroenterology, general surgery, infectious disease, nephrology, nuclear medicine, occupational therapy, physical therapy, plastic surgery, pulmonology, sleep diagnostics, speech therapy, spine surgery, telepsyche, urology, vascular surgery and wound care.
"The 'front door" of a hospital is the emergency room, and we had just under 41,000 ER visits in 2019," Bernard told chamber members. "The 'engine' is the operating room, and our volume there has grown significantly over the last four years, especially in the last two years."
Providence Health was created in 1938 by the Sisters of Charity of St. Augustine. It was acquired by LifePoint Health in February 2016. The company also operates a larger hospital on Forest Drive near downtown Columbia and an emergency room in Winnsboro.
Lexington Medical Center also is expanding into the growing northeast Columbia community. It began construction last summer of a new 225,000-sq.-ft. medical facility at the intersection of Clemson and Longtown roads.