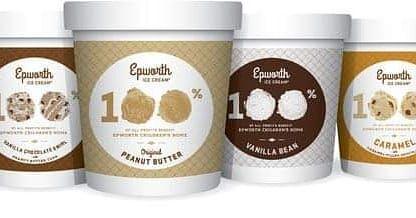 Led by a local business owner, the Columbia community is coming together to help the kids at Epworth Children's Home.
Stephanie Griggs Bridgers, owner of The Local Buzz coffee shop and cafe in Five Points, has helped organize six Epworth Ice Cream pop-up sales this weekend, with 100% of the proceeds going to the children's home, which lost many supplies in an electrical fire earlier this week.
Bridgers, who says she wanted to help Epworth because she "loves them so much," asked friends across the community to help with locations and promotion for the pop-up sales, and volunteered her own services to collect the donations for the cause.
The ice cream comes in portable containers, and is available in peanut Butter, vanilla, or caramel flavors, plus a limited supply of chocolate swirl. The pop-up sales are set for the following times and places:
Saturday, June 6
11:30 to 12:30 - Hamptonwood Way, Hamptonwood East
1:00 to 2:00 - 755 Kipling Dr., Heathwood
3:00 to 4:00 - 144 Saluda Ave., Hollywood Rose Hill
5:00 to 6:00 - 8 Copperfield Ct., Hampton Leas
Sunday, June 7
1:00 to 2:00 - 4602 Sandy Ridge Rd., Forest Acres
3:00 to 4:00 - 2501 Heyward St., Heyward St UMC
Orders can also be placed via email at Dave@epworthicecream.org. Any questions about the pop-up sales can be sent to thelocalbuzzcolumbia@gmail.com.