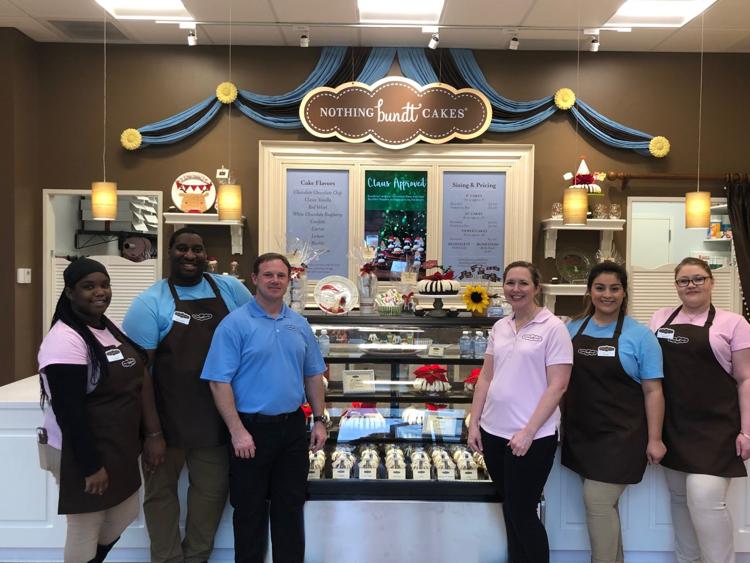 A "sweet" new addition has just been added to Forest Acres. Nothing Bundt Cakes officially opened its doors to anxious customers Saturday, in the developing Cardinal Crossing shopping center (4619 Forest Drive, Suite 1).
Owner Kandi Bubonic and her family moved from Texas to open her second Nothing Bundt Cakes in the Midlands. Bubonic familiarized herself with the product for eight years while working as a general manager for one of the franchise's training bakeries in Dallas. Then, she opened her first store in Arlington, TX.
When asked if it was scary to open a second store of he own, she laughed. "The scariest thing was moving across the country with a baby and a toddler," she said. "But I have family here and I wanted to be closer to them while raising my kids."
Nothing Bundt Cakes specializes in four different bundt cake sizes, ranging from full-size for sharing, to bite-size "bundtinis" that can be purchased by the dozen. Nine different flavors are offered including pecan praline, white chocolate raspberry, chocolate chocolate chip, and lemon. An additional seasonal flavor (currently snickerdoodle) is also on the menu. According to Bubonic, their cakes are always moist and soft, accompanied by a butter cream cheese frosting on top.
After getting all the finishing touches put on the store, Bubonic said she's excited to be open to the Forest Acres community. "I feel like people have literally driven by and peeked in the windows to see if we're open yet. So how can you not be excited about that? We've been having a great response," she said.
Nothing Bundt Cakes will be holding five celebratory grand opening events the second week of January:
• Tuesday, Jan. 7
9 a.m.-6 p.m. – School Staff Appreciation Day – Teachers, school staff and aides with ID or business card will receive 20 percent off their total purchase on this day
• Wednesday, Jan. 8
9 a.m.-6 p.m. – First Responders Appreciation Day – Police, firefighters, EMTs and those who work for our great city will receive 20 percent off their total purchase on this day
• Thursday, Jan. 9
11 a.m. – Ribbon Cutting with the city of Forest Acres
• Friday, January 10
Family Connections of South Carolina Benefit Day – 20 percent of sales will be donated to this organization dedicated to changing lives by making connections, raising awareness and promoting inclusion for those with disabilities and special healthcare needs
• Saturday, January 11
10 a.m. – Free Bundtlets for a Year – The first 50 guests on this day will win free Bundtlets for a year (one per month for 12 months, one card per household, age 18+)
11 a.m.-2 p.m. – Family Fun Event – Take the kids to enjoy face painting and a'bundt'ant samples of their delicious cakes!
More information can be found and online orders may be placed, at nothingbundtcakes.com.