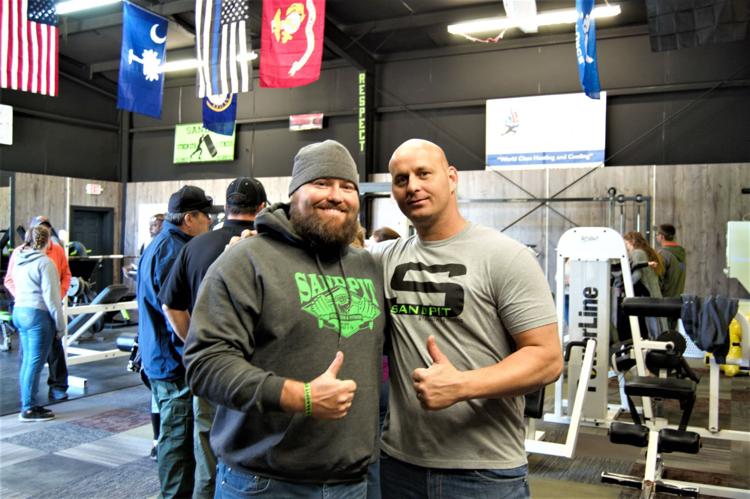 Southern Lexington County residents have a new, locally-owned place to work out, thanks to the ambition of two friends.
Sandpit Strength & Fitness officially welcomed its first customers to 6200 Edmund Hwy. with a grand opening event Saturday, featuring music, vendors, food, games, and bounce houses. It was a family- friendly day, and co-owners Todd Bolton and John McDonald want that to be a continuing theme.
"We wanted to create an atmosphere where people would want to bring their families and just hang out as a community," Bolton said. "Ultimately, if you can culture a lifestyle change, then you can create a healthy atmosphere. You can educate people on choices to make, and if people that are together are making those same choices it becomes easy. That's what we're trying to do."
The gym will be significantly different from corporate chains, with no contracts or annual fees. Customers can simply pay $25 each month for membership. Discounts for students, police officers, firefighters, other first responders, and all active military and veterans are available.
"We always wanted to open a gym, and we wanted to help the community also," McDonald said. "We thought why not bring the community a place that's reasonable where they can better themselves. I don't want to pressure anybody into a contract."
Sandpit offers a number of features not seen at all gyms, including the sandpits and other outdoor equipment, in addition to the indoor workout options. Supplements, gym gear and meal prep items are available, and the gym will feature a kids area for children to play safely while adults work out.
Though Saturday was the grand opening, the owners and staff have been working to get the place ready, and many people have stopped by for a preview.
"Our response has been fantastic," Bolton said.
More information on Sandpit Strength & Fitness is available at the gym's Facebook page.