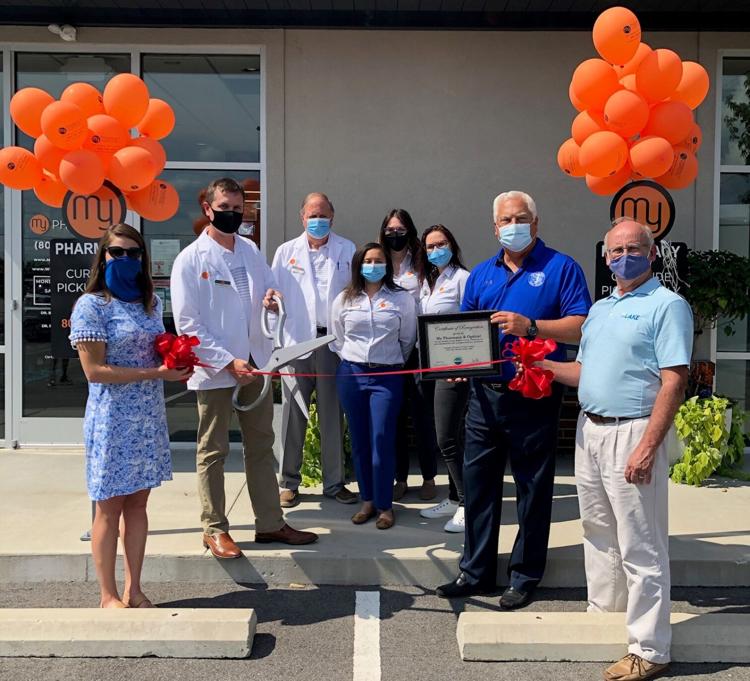 Brent Munnerlyn decided to take two different types of businesses models and combine them into one store. Customers of My Pharmacy & Optical, located at 808 Hwy. 378 in Lexington, can go pick up their prescription medication and get an eye exam all in one visit.
Munnerlyn has managed both types of businesses throughout his career and said he's seen the synergy between pharmacies and optometry. A crowd gathered Thursday to watch him cut the ribbon at the store's official grand opening.
According to Munnerlyn, his pharmacy accepts all CVS Caremark plans. "Customers can be assured that their copay will be the same or less when they come to us, too," he added. Additionally, the pharmacy offers immunizations, can deliver medications, and will soon be offering COVID-19 antibody testing later this week.
The optical side of the business offers full optic service and more than 200 types of glasses frames. There are two certified and licensed opticians and one optometrist on-site. The business also accepts walk-in patients.
One of the most important factors of Munnerlyn's business, he said, is the quality service customers receive. "What's happened is corporations like Walmart and Walgreens took over pharmacies," he said. "People used to go to hometown pharmacies, now all that's changed. What ends up happening is the customer service level becomes extremely poor. I want patients to know when they come in here, they're going to get a much higher level of care."
My Pharmacy & Optical customers can currently receive $100 off optical services or a free pair of glasses when they become pharmacy patients. The business is open 9 a.m. to 7 p.m. Mondays through Fridays, and 9 a.m. to 5 p.m. Saturdays. More information can be found at mypharmacyandoptical.com.