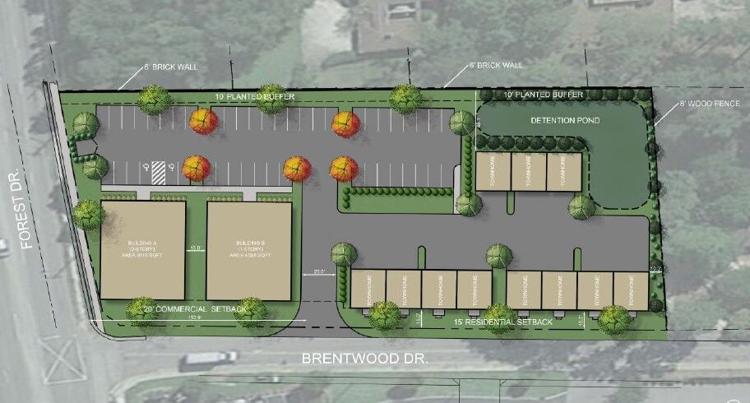 Cason Development Group representatives have announced plans for a new mixed-use commercial and residential project for the City of Forest Acres. The development will be located on the corner of Forest and Brentwood drives.
The project includes two commercial buildings totaling up to 15,000 sq.-ft. It will also include 11 townhomes, ranging from 1,500 to 2,500 sq.-ft. each. The commercial buildings are expected to attract boutique retail, office and medical office users. The townhomes are expected to be priced in the $400s targeting empty nesters and young professionals seeking a quiet neighborhood in close proximity to the Forest Acres retail corridor.
Cason Development Group is working with local residential developer Wilson Co. on the project. Garvin Design Group and Landplan Group South will be the architect and engineer for the project.
"We are excited about the opportunity to bring this unique mixed-use project to the Forest Acres community," said Frank Cason, president of Cason Development Group. "Our team has put in a lot of effort on this project over the last 18 months. We are thankful that Forest Acres Council members saw the vision for our desire to transform this corner on Forest Drive. Our team had many conversations and a lot of input from neighbors and stakeholders in the community, and we look forward to getting this project out of the ground."
Forest Acres City Council has approved the plans and Cason hopes construction can start later this year. Access to the area will be through a single driveway off Brentwood Drive, and a planted buffer and a brick wall will separate the project from the residential properties along Greenhill Road.
According to Cason Development Group, the development will replace several older rundown multifamily properties on the site.