Northeast Columbia residents will soon have a new option for crab legs, fried fish, shrimp and other seafood when Mr. Seafood opens a second location at 494-1 Town Center Place in the Village at Sandhill.
Rasheed Nurudin and his wife, Aminah, opened the original Mr. Seafood on Two Notch Road in 2017. But Nurudin said he found 85% to 95% of his customers come from the Northeast side of town, prompting him to open the second restaurant. The 2,600-square-foot restaurant will have indoor seating for 50 customers and another 15 outside. It will employ about 20 people.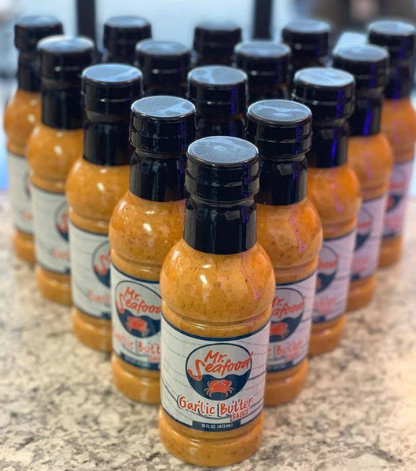 Mr. Seafood's menu includes snow crab legs, shrimp, oysters, scallops, fish sandwiches, wings and tenders, seafood or chicken baskets with fries and hushpuppies, and garlic combos featuring crab or shrimp with potato, corn and Mr. Seafood's signature garlic butter sauce. Sides include corn on the cob, red potato, cole slaw, sausage, fried okra and hard-boiled egg. The restaurant also offers party trays, takeout, delivery and catering.
The garlic butter sauce Mr. Seafood is known for played a key role in the restaurant's creation, long before he moved into the hospitality industry, Nurudin said.
"When I was in the car business, I went to Florida every week to an auction and would bring back garlic crabs," he said. "People loved them, so when I left that business I decided to make my own." Loyal fans of the garlic butter sauce can now buy it by the bottle.
Nurudin said he then decided he wanted to bring seafood inland from his native Monck's Corner near Charleston, at first commuting back and forth before relocating full time to the Midlands. Mr. Seafood also partners with the University of South Carolina, operating a concession at the Colonial Life Arena and a food truck at football games.
Nurudin said the crab legs and fried seafood are best-sellers, but customer service is what makes Mr. Seafood stand out.
"I'm a people person," he said. "I talk to all my customers and know them on a first-name basis."
The new Mr. Seafood will have its grand opening 3–6 p.m. on Saturday, May 13. The restaurant will be open Sundays, Tuesdays and Wednesdays from noon to 9 p.m., and Thursdays–Saturdays from 11 a.m. to 10 p.m.