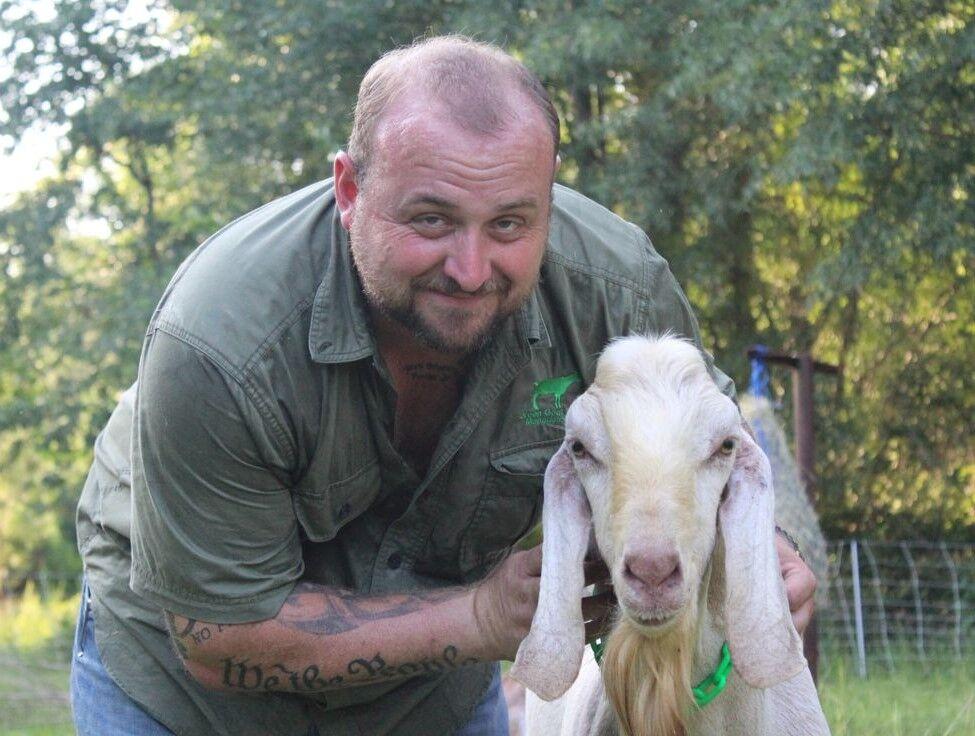 Jacob Porter was getting ready to retire from a 20-year Army career when inspiration hit him.
"I had some land in Eastover that was so overgrown you couldn't see a car in it," Porter says. "I put some goats on it, and they cleared it out so well, I sold it for double what I paid."
That was enough to convince the disabled veteran to create Green Goat Land Management. The company rents its goats by the day to help property owners clear land in a quick, inexpensive and environmentally friendly way. He and his wife, Cassie Rice, opened shop on her farm in Elgin in September 2019. Business is so good they moved the operation to Orangeburg just a year later because they needed more land — for more goats.
It's not hard to see why this niche business is booming. Porter says an average residential yard is about 5,000 sq.-ft. and costs about $200 to clear with five goats working onsite for five days. That $8-a-day rate per goat wouldn't entice any human labor, but the goats really eat up the chance to work, Porter said.
"They love it. The more they work, the 'worse' they become. Sometimes goats we didn't plan to use on a particular job will run up and jump in the trailer because they want to go to work," he said.
Delivery and set up are included in Green Goat's cost. Porter uses electric fencing around the areas property owners want cleared both to ensure the goats eat only the desired foliage and to protect them from other animals (including in one case a hungry alligator). Customers need to provide only water, although the goats may complain if they don't also get a few daily treats such as saltine crackers and mini-marshmallows for snacks in the evening.
"They won't butt people, but they will whine to get their treats," Porter said. "We don't own any mean goats. We train them with treats and spray bottles, and take the young ones on jobs with veterans to teach them what to do."
The herd leader is Taco, a 200-pound Nubian male that Porter admits is his favorite. "He's led a 100-goat herd and keeps them all in line and behaving properly."
The relatively low cost of using goats to clear land compared to hiring a landscaping company is only one reason the concept is increasingly popular: It's also better for the planet. Strong herbicide chemicals stay on the ground for a year so the land can't be used right away, Porter said.
"Horse farms use us a lot because they can immediately put the horses back in the pasture. Chemicals also get into the water, affecting plants downstream."
It's also more effective and safer than do-it-yourself power tools. "Using a weed-eater just slings seeds around so the weeds sprout again, plus poison ivy can get on you," said Porter.
The business even has a hidden benefit for some customers. Evelyn Clary has goats on her Forest Acres-area yard this week for the second straight year — planned just in time for the sixth birthday of her daughter, Lilith Rose.
"She loves giving them their treats and petting them. They're very friendly," Clary said. "And they make a lot less noise than your average child. They just goat around."
Additional information about the business can be found at greengoatlandmgt.com.