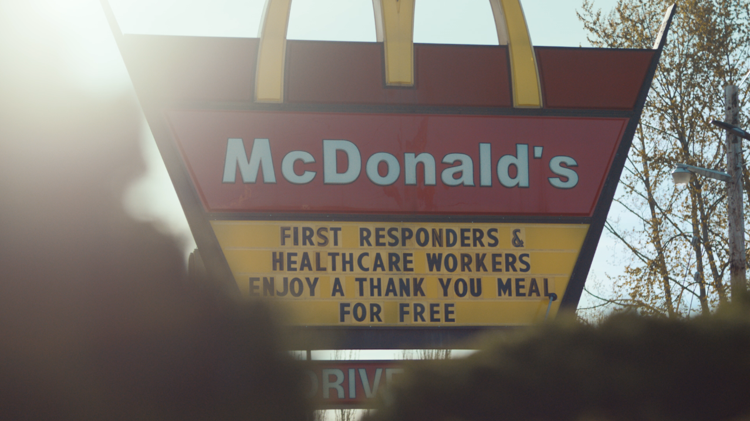 McDonald's locations across the nation began a new initiative Wednesday as a way to say "thank you" to all first responders and healthcare workers who are on the front lines working throughout the COVID-19 pandemic. The meals will be offered during breakfast, lunch and dinner, every day, through May 5.
Each Thank You Meal will be available at no charge through the drive thru or carry out, served in a signature McDonald's Happy Meal box, in the hopes of bringing a smile along with the warm meal.
Breakfast Thank You Meals are the choice of an Egg McMuffin, Chicken McGriddle, or a bacon, egg and cheese biscuit. All options come with any size soft drink, tea, or hot coffee and a hash brown. Lunch and dinner options include a double cheeseburger, six-piece Chicken McNuggets or a Filet-O-Fish with any size soft drink, tea, or hot coffee and small fries.
BJ Langley, owner of several McDonald's locations in Columbia and Irmo, said he and his employees love putting a smile on the faces of all who receive the Thank You Meals. "The first responders, hospital workers, they're exhausted and working hard. It's just our way of saying thank you, and it's our way of saying we're here for them, and we care," Langley said.
As of Thursday evening, Langley said the McDonald's near Lexington Medical Center had been able to feed a large amount of hospital workers that day. "The [McDonald's] employees feel like they're making a difference in the community, it just makes it more enjoyable. It's a win-win for everyone," he said. "Thank you to all our first responders, and stay safe. Thank you for all you do." 
Qualifying customers can show their badge or work ID to obtain the meal. According to Langley, the initiative is nationwide and the meals are being offered at all McDonald's locations across the Midlands.