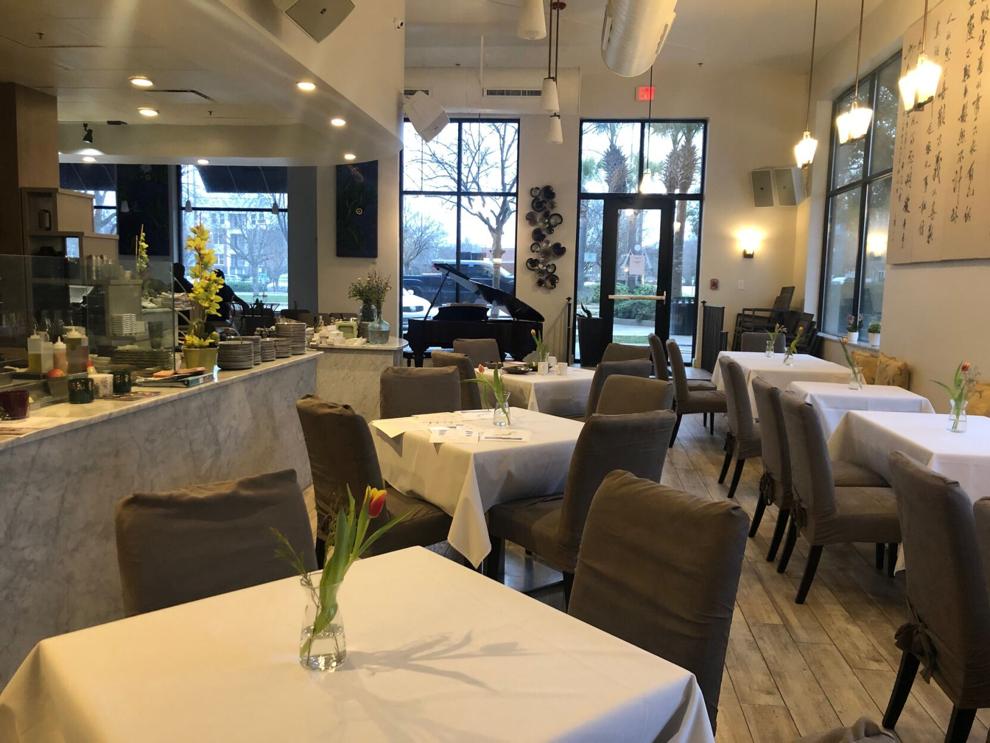 One familiar restaurant in Columbia's Vista has once again opened its doors after being closed for nearly three and a half years.
Michelle Wang, owner of M Grille, held a soft re-opening for the restaurant over the weekend, welcoming friends and patrons to try the new menu items while helping staff get into the swing of things. M Grille was originally intended to open last year but due to COVID setbacks, Wang's plans were delayed.
She said the time spent waiting to reopen has actually worked in her favor. "I think the time during COVID prepared me for how to cook things differently. I found it's more important than ever to eat well, so we can build strong immune systems to overcome the possibility of getting sick," she said. "We have to have a very balanced, nutrient-filled diet."
The Asian restaurant will offer a variety of healthy dishes including appetizers like the lobster apple roll, vegetarian dumplings and slow braised beef, and entrees like the rice paper-wrapped salmon filet, panko-fried chicken breast with tonkatsu sauce, and a miso ribeye.
M Grille will hold a happy hour from 4 to 7 p.m. with a special appetizer menu and drink specials including sake flights for $8.
The restaurant's re-opening is also meant to honor the company's 25th anniversary. Wang opened her first restaurant, Miyo's, in Columbia March 4, 1996. She said she still remembers those days very well.
"I remember wishing the people walking by would stop and come back. Every time I had one customer coming into my restaurant, I always got so excited," she said.
Now her company, M Gourmet Group, includes three Miyo's locations along with M Vista, M Kitchen and M Grille.
"I have come a long way," Wang said. "I feel like we're still evolving and still learning. Every time we open a new restaurant it really puts me back to a beginner's mind, which is good."
M Grille will be open for dinner from 5:30 to 9 p.m., and closed Sundays.
The restaurant will be partnering with West Columbia's Blue Moon Ballroom to offer "dinner and dancing" in honor of the reopening. Groups of up to 10 people can partake in a 30 minute dance class at Wang's venue, M Space, before enjoying a three-course dinner next door at M Grille. Couples can take part in "dinner and dancing à deux" with a 30 minute private dance lesson, followed by a candlelit dinner from a curated M Grille menu. The couple can enjoy their private dinner inside M Space for a two-hour time frame. Blue Moon Ballroom also plans to offer "swing, shag and sushi" every Tuesday in April. 
M Grille is located at 530 Lady St.