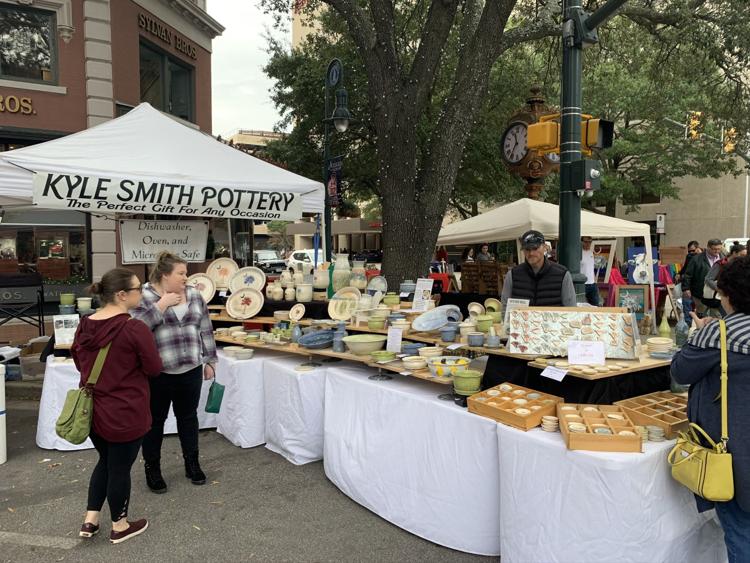 On Black Friday, the news was filled with stories of crowds battling to grab the best bargains at big chain stores like Walmart and Target. Saturday was another big shopping day, but the focus was on places with budgets nowhere near the billions.
Small Business Saturday is a day dedicated to supporting small businesses and communities across the country, founded by American Express in 2010 and observed each year since two days after Thanksgiving.
Columbia's small businesses were ready for customers this year, starting with the dozens of mostly local entrepreneurs who set up shop on Main Street for the weekly Soda City Market. They came from all corners of the Midlands, along with some from elsewhere in South Carolina, and the crowds were eager to support them.
"I actually didn't even know it was Small Business Saturday, but we come here every chance we get. You get unique things instead of mass produced, and I'd rather my money stay local than go to some corporation somewhere," said Jess Lacoste.
The statistics prove him right about the money spent with small businesses staying close to home. Approximately 67 cents of every dollar spent at a small business stays in the community, according to a 2018 study commissioned by American Express.
Beyond Main Street, local businesses in Five Points, West Columbia, Lexington and all over the Midlands offered specials on Saturday and will continue to do so throughout the holiday season. More information on shopping small is available online.