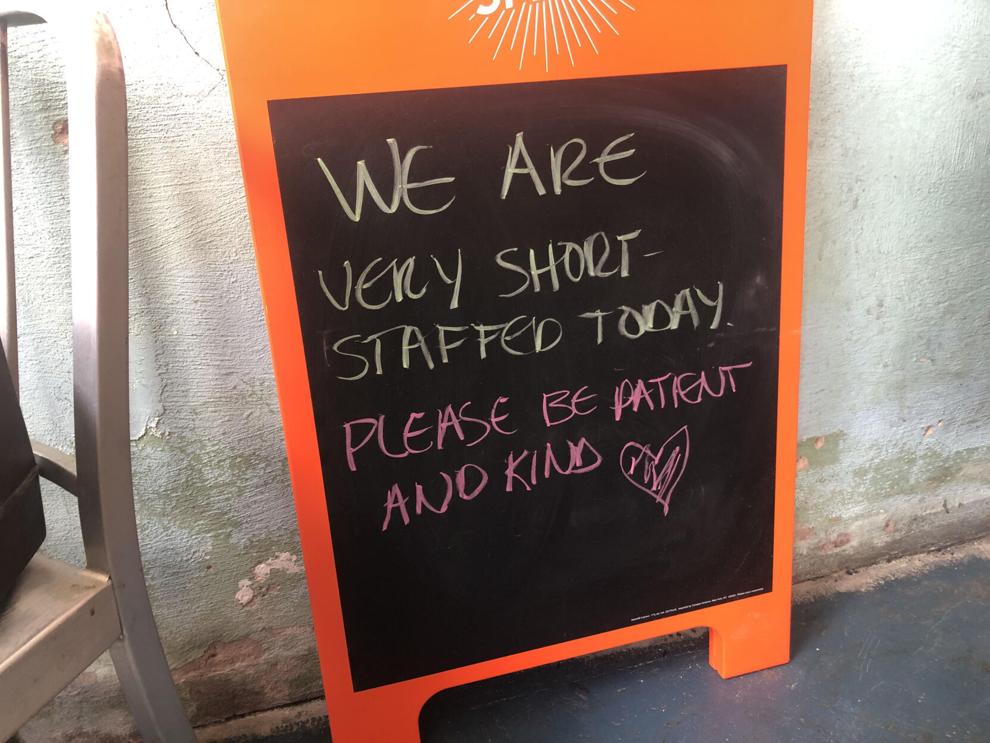 Recent South Carolina unemployment claims show the Palmetto State is one of the fastest economically recovering states from the pandemic, but talking to some local business owners paints another picture.
Employers are still struggling as the economy creeps back to equilibrium. According to three local business owners, the past year has been difficult for them with minimal hiring inhibiting their growth.
Local pesticide company Mosquito Joe has experienced the challenge of gradually increasing demand with little to no hiring.
"We've been short staffed this entire year. We were short staffed literally from February of last year, everyone in the home services industry that I know of has been short staffed since last summer. Some of that is because demand went way up, but no one can meet that demand by expanding their teams because they can't find workers," said Mosquito Joe franchise owner Trey Powell.
Things have improved slightly overtime for Mosquito Joe, but the business is still in a different place than before the pandemic.
"Before COVID hit, I could spend $500 on Indeed, and have over 100 applicants within three days. I would literally have to cut the ad off to keep up with the applicants that we would have," Powell said. "Now I'll spend $500 on a platform like Indeed, and I get six or eight applicants a day. I get one in 10 of what I would get prior to."
Other businesses have also turned to methods of adapting to stay open with a smaller staff, and attract more employees. Café Strudel and Deserved Comfort House Cleaning are both offering sign-on bonuses.
Marlo Kanipe, owner of Deserved Comfort, has struggled with the difference in ease of hiring post-pandemic. There has been a slight improvement in hiring, but she said she has still faced months of low prospects.
One of the company's main goals is to grow the business, which has proven to be difficult post-COVID. Kanipe said they have had no problem retaining staff, but with a $500 signing bonus, hundreds of dollars going into employment ads and an increased starting wage, the hiring has still not returned to the level it was previously.
"I would say it was, you know, 75%, easier to get an applicant than it is now. I think that had we been offering these bonuses and paying the wage that we are now, if we'd been doing that two years ago we could easily double our staff within a year," said Kanipe.
The restaurant industry has generally been one of the more heavily impacted enterprises, according to local business owners.
Lexington and West Columbia-based Cafe Strudel has struggled with many of the same issues of staying open and staffing, but co-owner Trip Turbyfill said they are no longer in a critical position.
"Like anybody else, we were struggling with staffing. But we're not really sure, maybe between the two locations we could probably use maybe three or four more people, but we're not critically short where we can't operate," he said.
According to Turbyfill, they found more hiring prospects by word of mouth than anything else.
Café Strudel never closed during the pandemic, instead they found ways to serve and make money like operating a food truck and changing hours to just breakfast and lunch.
"This is my livelihood and my life and my business. I didn't know how to shut it down. So we just kept doing what we could do to pay the bills and pay the mortgages and stuff," Turbyfill said. "So I think there's a lot of challenges, and a lot of opportunities as well during the pandemic now. It wasn't only challenges, there was opportunities, and people that seized on the opportunities and didn't give up will probably come out better on the outlet of the tunnel than coming in."
Despite the setbacks many Midlands companies have experienced during the past year, employers seemed determined in their efforts to continue adapting in order to remain open.