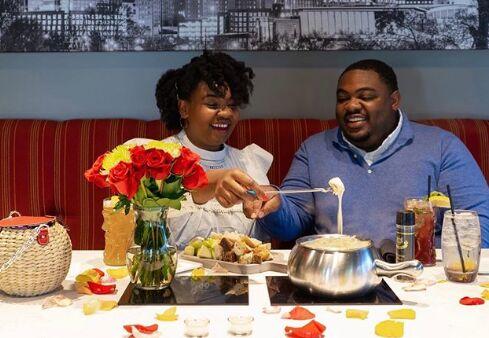 It's the weekend of love in the Midlands, with thousands of couples - and groups of friends - planning on heading out to celebrate Valentine's Day. Although many will celebrate at home this year to avoid potential crowds, there are lots of local restaurants offering specials for those who choose to dine in or pick up to-go food.
Columbia
-Main Course: three course dinner all week, five course dinner Sunday. 
-Villa Tronco: Thursday through Saturday modified menu, regular hours. Closed Sunday.
-Motor Supply: Mardi Gras (coincides with Valentine's weekend) - now through Tuesday. Friday and Saturday - special Valentine's Day menu, normal hours.
-Saludas: three course meal throughout the weekend with modified menu in place of nightly menu
-Gervais & Vine: Valentine's weekend specials including beet cured salmon lox, gorgonzola-duck liver mousse, lobster spaghettini carbonara, and desserts including strawberry-chevre cheesecake and bread pudding. Specials available from Friday through Sunday.
-Melting Pot: preset menu Thursday-Monday - this is the only menu that will be offered those days. $65 per person Friday through Sunday, $55 per person Monday.
-Inakaya Watanabe: free dessert with sushi for two, Valentine's roll special or any boat, 25% off all bottles of wine, dinner for dine-in or take out Feb. Thursday through Saturday.
-Hendrix: three course modified Valentine's Day menu, email management@hendrixsc.com to book reservations - Sunday only, four course meal $120 per couple.
Chapin/Ballentine
-Liberty on the Lake: Friday-Sunday, three courses for two people, $45 per couple, dine in or carry out
Irmo/Harbison
-Miyo's: chocolate cake and strawberry-infused martini, regular hours and prices
-Bonefish Grille: Valentine's day menu specials through Monday, regular hours
-Outback Steakhouse: four course menu now through Sunday, regular hours
-BJ's Brewhouse: Valentine's Day bundle for two to-go for $59.95 including two entrees, one appetizer and one dessert
-Bistro on the Boulevard: Saturday Valentine's specials menu, by reservation/wait list only
Northeast Columbia
-Whiskey Kitchen: three course dinner for two, customers' choice of wine or whiskey cocktails, Saturday from 5-10 p.m.
-Ratio: "Take out for Two" available for those who would like a special take out meal. If interested, email management@ratiorestaurant.com with your selections, full name, number and preferred pick up date (Feb. 12-14 from 4-5 p.m.)
Lexington
-Travinia: chocolate cake and gelato, surf-and-turf, lobster tail, official menu will be posted online. Live music every night throughout the weekend. Regular hours of operation
-The Root Cellar: Feb. 14 - salad, two sides, surf-and-turf with bar drink specials. 11 a.m. to 9 p.m.
-O'Hara's: chef's cooking in dining room, three entrees from 11 a.m. to 9 p.m. Saturday Chef's cooking in dining room, four entrees from 11 a.m. to 8 p.m. Sunday.
-Old Mill Brew Pub: Friday-Sunday special steak and scallop dish
West Columbia/Cayce
-Cafe Strudel: "Galentine's menu" - breakfast, lunch and drink specials from 8 a.m. to 4 p.m.
-Terra: Valentine's day menu Sunday (fully booked)
-Black Rooster: to-share menu for couples, 5-10 p.m. Friday-Sunday
-Al's Upstairs: three course meal $165 per couple Friday, $175 per couple Saturday and Sunday.
If you're the owner/manager of a local restaurant offering a Valentine's weekend special and would like to be added to our list, email the name of the restaurant with the details to news@coladaily.com.