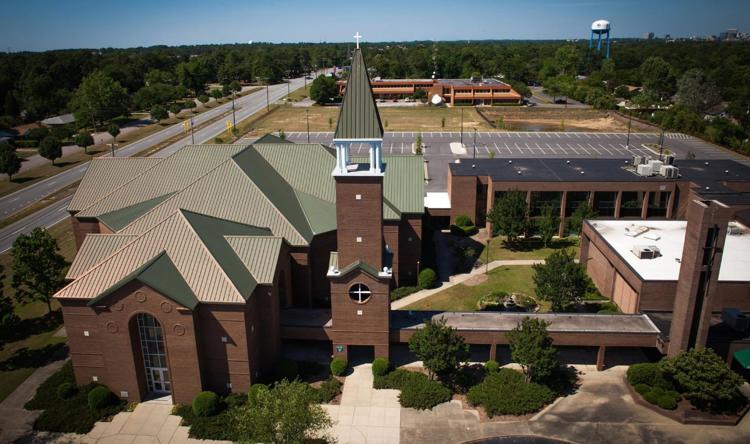 With the CDC and other experts advising that the best thing to do during the ongoing fight with coronavirus is stay at home, churches in the Midlands have had difficult choices to make.
While not ordered to close, many have voluntarily chosen to temporarily cease their in-person gatherings, but are still finding ways to serve their congregations and worship together. Thanks to livestreaming and social media tools, many resources are available to longtime members and newcomers alike.
At Seacoast Church Columbia (the church has 13 campuses across the Carolinas), Pastor Matt Benton says he and the rest of the team have had the advantage of an infrastructure already in place, because they have long made use of the internet, though of course until recently in person services were the best attended.
"That's been the saving grace for us," Benton says. Seacoast has added extra services, prayer groups and other virtual gatherings during the crisis, and adjusted the way services are held to create, as Benton puts it, "more of a small group, living room feel."
Benton says the lack of face to face interaction has been the most difficult thing, but Seacoast has used Zoom to host campus virtual hangouts for all who care to join. It allows leaders and congregation to see each other face to face and talk almost as if together in person.
"The church is vertical, but also horizontal. Otherwise there wouldn't be a reason for gathering for church. We could experience God anywhere on our own, but we couldn't have that community," Benton says. "It's beautiful to be able to leverage technology and use the tools that are available."
Seacoast has worked hard to reach as many people as possible, using the church website, social media, YouTube, and every streaming platform available. The Charleston campus (the technological hub for the group of churches) has also opened its doors to any pastor who lacks the technology, allowing them to use Seacoast's resources at no cost to reach their own congregations.
Cola Daily's sister radio stations 94.3 The Dude and 93.1 The Lake will be running hourly encouraging messages from several pastors around the Midlands over the weekend. The messages will air from Good Friday through Easter Sunday.
Below is a list of just a few of the many places of worship available virtually during this crisis.
Blythewood:
Blythewood Presbyterian: Posting a YouTube play list of Home Worship Liturgy each Saturday night - available at blythewoodpres.com.
Village Church: Services, including Good Friday service, available at thevillagechurch.net/live.
New Kirk Presbyterian: Offers Sunday services online via links on the church's Facebook page (@newkirkpresbyterian) and website: newkirkpres.com
Camden:
Lyttleton Street UMC:  Using Facebook and YouTube to stream worship services, UMYF, and children's programming. Sunday services premiere at 9 a.m. The Easter service will feature a sermon by the Rev. Dr. Robin Dease, Super Intendant of the Hartsville District.
Cayce/West Columbia:
Emmanuel Baptist Fellowship: Gatherings online via Facebook and Zoom. Worship guide and other details available at emmanuelbaptistfellowship.org.
Cayce United Methodist: online services, virtual hymn sings, drive-thru Easter egg hunt and more. Details at Cayceumc.com.
Transfiguration Lutheran: sermons and music available online each week.
Trinity Baptist Church: Digital sermon posted on the church's Facebook page Sundays at 8 a.m.
Columbia Church of Christ: Live-streamed Sunday services on colachurch.org.
Mt. Tabor Lutheran: Digital services available through the church's Facebook page, Sunday at 11 a.m. Holy Week Seville's for Maundy Thursday and Good Friday services to be announced via Facebook. Weekly morning devotional at 7:15 a.m., and in the evenings between 9-9:15 p.m. Children's story time Wednesday at 3:30 p.m.
Calvary Chapel Columbia: Broadcasts both Sunday morning at 10 a.m. and Wednesday night at 7 p.m. on YouTube and the church Facebook page. More information can be found at calvarychapelcolumbia.com
Mt. Hermon Lutheran: Livestreaming on the church's Facebook page every Sunday. This week the church will also offer livestreaming on Thursday, Friday, Saturday and Sunday. More information can be found at mthlc.com. 
Pineview Baptist: Streaming worship service Sunday mornings 10:45 a.m. on chuch's Facebook page.
Brookland Baptist: Livestreaming Sundays at 11 a.m. on brooklandbaptist.org and church's Facebook page.
Covenant Baptist Church: Streaming services Sundays at 9:30 a.m. and 7 p.m. Available at covenantbaptistsc.org/live-stream
Chapin:
Chapin United Methodist: Online services will stream at 9 a.m. and 11:15 a.m. More information can be found at chapinumc.com.
Chapin Baptist: Online service emailed to members and available any time on the church's Facebook page. 
Chapin Presbyterian: Online service will be provided to members Sundays at 9:30 a.m., then will remain available on the church's website at chapinpres.org.
St. Peter's Lutheran: Video services are uploaded on the church's website, including Lenten messages. More information can be found at stpeterchapin.com/connect/online-worship-devotions 
Columbia:
Shandon Baptist: Sunday services livestreaming at shandon.org. Recorded sermons always available online.
Midtown Fellowship: sermons, digital worship guides, resources for Holy Week, guides for kids and more at midtowndowntown.com.
First Presbyterian Columbia: Sunday services livestreaming, recorded services and daily devotionals available online. Virtual prayer groups via Zoom. Details at firstprescolumbia.org.
First Baptist Columbia: Livestreaming Sunday services, online Sunday school, and social media activities throughout the week. Details at fbccola.com. Sunday service also airs on WLTX-19 at 11 a.m.
Basilica of St. Peter: Daily mass livestreamed, special activities for Holy Week and other resources. Details at visitstpeters.org.
Christ Covenant Church - PCA: Sunday morning worship at 10 a.m., streaming on Facebook live. More information at ccotc.org. 
True Church at Set Free Ministry: Livestreaming services Sundays at 10 a.m. and Thursdays at 7 p.m. through Pastor Kelvin Jones' Facebook page.
Shandon United Methodist: Livestream traditional service at 8:45 a.m. and release pre-recorded contemporary service at 11 a.m. Sundays on the church YouTube channel. 
First Nazareth Baptist: Livestream of services and bible studies at firstnazareth.com
Spring Valley Baptist: Livestream service link on church's website at springvalleybaptist.com, and service video posted on church's Facebook page. Life groups are also meeting virtually.
Hope Church: Livestream available every Sunday at 11 a.m., more information can be found at www.hopechurchcola.org
Trinity Episcopal Cathedral: Currently in Holy Week schedule (trinitysc.org/HolyWeek). Streaming page is trinitysc.org/live, and the church's schedule can be found at trinitysc.org/trinitylife.
Crossroads Church: Holding televised services online available through the church's Facebook page, on Periscope, and through http://CrossroadsChur.ch. Video and do-at-home content is also available for students and children. 
Trenholm Road United Methodist: Livestreaming services through the church's Facebook page.
Christian Life Church: Digital worship, prayer, and sermon at 10 a.m. Playback is available. Video available at https://vimeo.com/398292088. If there is trouble viewing, visit http://www.clcolumbia.com.
ICON Church: Sundays: 11 a.m. live worship service, viewable on the church Facebook page. Sundays at 7 p.m.- ICON young adult Zoom virtual hangout. Contact info@iconchurch.cc for login details. Mondays at 7 p.m. - ICON youth Zoom virtual hangout - contact youth@iconchurch.cc for details. Tuesdays at 7 a.m.- Facebook live Tuesday morning devotion and prayer. Wednesdays at 6:30 p.m.- virtual Bible studies, focus on how to grow in your faith and worship with your family, 7:30pm ICON youth virtual Zoom Bible study - contact youth@iconchurch.cc for more information. Saturdays from 10a-12p - drive thru prayer. An opportunity for the community to receive prayer while staying in their car. Our volunteers practice social distance guidelines.
Sandhills Community Church: Newest service online every Sunday at 10 a.m. via sandhillschurch.org, and church Facebook page. The sermon is then available on both platforms indefinitely. The church will also hold a Good Friday service on both platforms at 7 p.m. Friday.
River City Chapel: Streaming live every Sunday at 10 a.m. on the church's Facebook page. More information can be found at www.rivercitychapel.com
Zion Chapel Baptist Church of Reeder Point:  Livestream of services at 11:45 a.m. at www.zionchapel2.com
Bible Way Church of Atlas Road: Sermons available through bwcar.org and church's Facebook page.
The Brook: Sunday services available 7:45 a.m., 11:15 a.m., and 5 p.m. through brookcity.org and church's Facebook page.
Greater Faith United Missionary Baptist: Sermon videos available at gfumbc.com.
St. Martin's-in-the-Fields Episcopal: Worship service Sundays at 10 a.m. on Facebook Live and daily meditations on church's YouTube channel.
Our Lady of the Hills: Livestreams Mass each weekend through the church's Facebook page.
Columbia (Northeast):
Seacoast Church: Sunday services, motivational minutes, Bible studies, extra weekly services, special messages and activities for kids and youth, available at seacoast.org.
First Northeast Baptist: Sunday services livestreaming and available on Facebook. Prayer groups by phone Wednesday and Saturdays. Details at fnebc.org.
Gracelife Church: services online, live prayer via Facebook Monday-Friday. Details at gracelife.church.
New Dimension Church of Northeast: Sermons livestreamed on church Facebook page 10 a.m. More information can be found at www.newdimensionchurchne.com
Rehoboth Baptist Church (Northeast): Live Streaming on YouTube and Facebook Sundays at 11:45 am. Youth Worship Services on line at 12:30 pm on Sundays. Online Bible Studies at noon and 7 pm (Facebook, YouTube). Operation 12:10 phone tree (checking on members and neighbors) at 12:10 pm daily, Romans 12:10. Worship Service DVDs available on Saturdays after noon upon request. Praise & Prayer line 6 am Mon.-Fri. For more details can be found at www.rehoboth-baptist.org
Eastover: 
Mt. Nebo Baptist: Services live streaming on church's Facebook page. 
Harbison: 
Grace UMC: Livestream worship service at 8:30 a.m. and 11 a.m. The online worship options include Facebook, YouTube, ROKU (search for the Grace United Methodist Church Columbia channel. Add the channel to your Roku by visiting: https://my.roku.com/account/add), and the church's website. The church bulletin and online giving options can be found on the website to further help folks worship safely. Services are made available on demand after the live stream Sunday mornings, but certain platforms take a few days to populate the on-demand video options.
Irmo:
Three Rivers Baptist: Livestreaming Sunday service and Sunday school. For more info visit www.3rbc.com
McGregor Presbyterian: Rev. Julie Walkup Bird is recording both a worship service and a children's sermon each Sunday. They can be viewed at mcgpres.org/worship/sermons, on the church Facebook page and on Youtube.
Lexington:
12 Springs Church: Services streaming online, available at 12springschurch.com
First Baptist Lexington: Services available online at vimeo.com/firstbaptistchurchlex
Harvest Church: Services livestreamed on church's Facebook page and YouTube channel Wednesdays at 7 p.m. and Sundays at 10:30 a.m.
Northside Baptist: New office and lobby hours from 9 a.m. to noon Mondays through Thursdays. Digital sermons available through Northside's Facebook page.
Lexington Presbyterian: Sunday service livestreaming, guides for worshiping with children and other resources available at lexpreschurch.com.
RADIUS Church: Livestreaming services, special online activities for Holy Week, resources for children, daily devotionals via email. Details at radiuschurch.org.
Mt. Horeb UMC: Livestreaming services, youth worship via YouTube, Tuesday encouragement and entertainment via Instagram Live, Wednesday night worship via Facebook live, virtual prayer groups and more. Details at mthorebumc.com.
Pilgrim Lutheran: Sunday Sermons and daily devotionals available on the church Facebook page. More information can be found at wearepilgrim.com
Don't see your church on the list? Send us your church's COVID-19 adjustments at news@coladaily.com to be added.