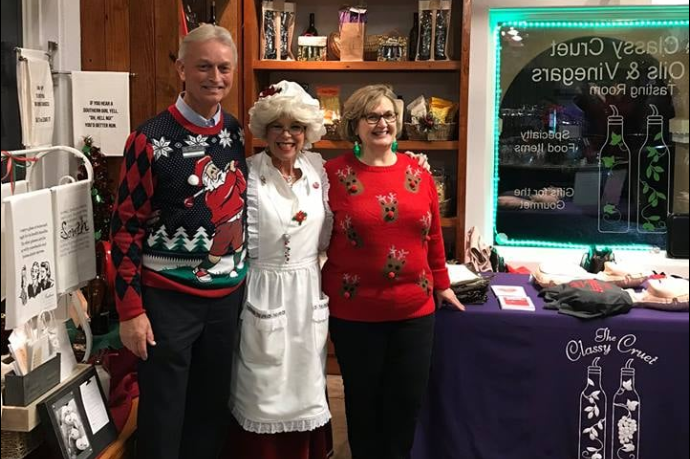 Midlands residents can soon get discounts, refreshments, and door prizes across nearly 20 local stores and restaurants for a few days.
The Lexington Holiday Open House Tour will be held Thursday through Sunday and is presented by the Greater Lexington Chamber & Visitor's Center and Midlands Media Group. The annual event promotes local businesses offering sales and special deals while getting shoppers in the holiday spirit. In addition to deals, many stores will also provide food, drinks and door prizes.
Connor Watkins, multimedia strategist for the Greater Lexington Chamber Visitor's Center, said the event helps to showcase the businesses within the town.
"This open house is what local holiday shopping is all about. Not only are you supporting a small business, but you're also getting a unique gift for someone special that will then come to know that business. We're proud to be a part," he said.
Hours of operation vary for each business.
A list of participating businesses, along with hours and specials:
Blush Boutique and Home
Giveaways and pop ups, munchies and specials
Kickoff on Thursday with Ladies Night with treats and bubbly.
Thurs. 10-7, Fri. 10-6, Sat. 10-4, Sun. 1-4
----------
Farmhouse Market & Antiques
Light refreshments throughout the weekend.
Thurs.-Sat. 10-6, Sun. 10-5
----------
Free Bird Boutique
Bring a non-perishable food item or new toy for Mission Lexington and receive 15 percent off total purchase.
Thurs.-Fri 10-7, Sat. 10-4, Sun. 12-4
----------
Gifts Galore & So Much More
Refreshments, door prizes and more.
Thurs.-Sat. 10-6, Sun. 12-6
----------
High Class Consignments
Offering 20 percent off a $50 purchase, and lots of door prize drawings.
Thurs.-Sat. 10-5
----------
James & Eloise Fine Children's Boutique
Thursday is Ladies Night with bubbly and munchies from 4 to 7, Friday there will be coffee and refreshments all day, and Santa will be in-store along with a cookie bar from 1-4 Saturday and Sunday.
Thurs. 10-7, Fri. 10-6, Sat. 10-4, Sun. 1-4
----------
Lexington Jewelers, LLC
Register for a $75 gift certificate, special Christmas pricing.
Thurs.- Sat. 10-5:30, Sun. 2-6
----------
O'Hara's Public House
Enjoy Irish classics alongside the best of Regional American comfort foods. Bring your Holiday Open House Passport Booklet to enjoy a complimentary glass of house wine.
Thurs. 11:30-9, Fri.-Sat. 11:30-10, Sun. 10-8 (Brunch 10-2)
----------
Old Mill Brew Pub
Choose from more than 24 craft beers on draft, a glass of wine, or a martini. Enjoy a meal or appetizer from the eclectic menu, or try one of their specials.
Thurs, 11-10, Fri.-Sat. 11-mid, Sun. 11-10
----------
Pink Pineapple Boutique
Buy two, get one free graphic tees
Thurs. 10-5:30, Fri. 10-2, Sat. 10-2
----------
Tera's Merle Noman & Boutique
Door prizes and great specials with Vera Bradley and Mariana Jewelry. Light appetizers will be served and delightful beverages.
Thurs.-Sat. 10-6, Sun. 1:30-5:30
----------
The Auburn Mermaid
10 percent off in-store throughout the weekend.
Thurs. 10-5, Fri. 10-6, Sat. 10-2
----------
The Classy Cruet Olive Oils & Vinegars
Thursday - Sip and shop and learn how to create a holiday board, and receive 10 percent off any board purchase from 5 to 7 p.m.
Friday - It's a Tea-riffic sale with 10 percent off all teas and tea products.
Saturday - Doorbuster specials from 9 to 11 a.m.
Sunday - Free four pack sampler with a purchase of $75 or more
Thurs. 10-7, Fri. 10-6, Sat. 9-6, Sun 12-4
----------
The Nifty Gifty
Storewide specials all weekend
Thurs. 10-7, Fri. 10-6, Sat. 10-4, Sun. 1-5
----------
Wild Birds Unlimited
Enter to win a gift basket and ask about the current promotions.
Thurs.-Fri. 9:30-6, Sat. 9:30-5, Sun. 12-4
----------
Wingard's Market
Visit the garden center, gift shop and produce market. Specials and refreshments will be going on all weekend.
Thurs.-Sat. 9-6, Sun. 1:30-5