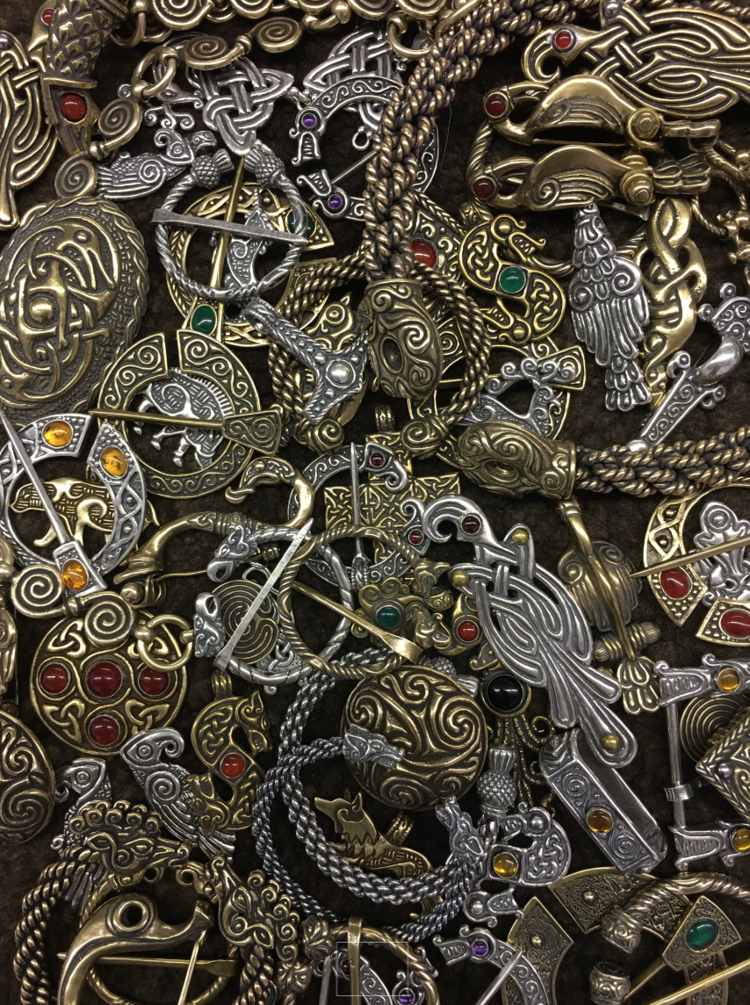 Crafty Celts is a small local business based out of Leesville, South Carolina.
Located 39 miles southwest of Columbia, the company sells something that isn't easy to find: fine, hand-crafted Celtic jewelry, similar to what was made by the people who inhabited Western Europe hundreds of years ago.
Owner and operator Danny Hansen graduated from the University of South Carolina in 1991 with a double major in Computer Science and Studio Art. Hansen originally planned on sticking with his blueprint: becoming a computer programmer. But life doesn't always follow a script.
With a passion for art, Hansen picked up many elective classes in painting. By the time he was a sophomore, he decided it was time to make it an official second major.
"Some designs are just timeless. It's amazing to think what you can do with lines, curves, and colors," he said.
Additionally, Hansen had already been interested in medieval history for years. But after participating in a convention one weekend as a high school student, he was forever hooked.
Hansen attended a convention being held to market and sell a game named Dungeons and Dragons. That's when he noticed a group called the "Society of Creative Anachronisms."
"They were doing medieval combat in armor. I took one look at that and I said, "that's what I want to do," he said. Hansen then became involved with the organization, performing in historical reenactments in costume and other activities, such as competitive sword combat.
But Hansen didn't discover the fine art of recreating medieval jewelry until he switched from painting to jewelry-making classes during his junior year of college. "After that, I pretty much never stopped. I never looked back," he said.
Describing himself as 'self-taught,' Hansen has been using authentic techniques to create jewelry at Crafty Celts since 1989.
To create the medieval jewelry, Hansen said he and his employees are responsible with casting metals and pouring them into shapes, and also forging with tools such as the hammer and anvil. The wire-twisting process is almost exactly identical to the old-fashioned way.
The primary difference, according to Hansen, is the heat source. "We're using propane, as they would have used a charcoal fire," he said.
Crafty Celts had previous success, but one phone call in August 2011 would change his life forever. "The phone rang, and I answered it," Hansen recalled. On the other end of the line was a female representative from a television show based in Ireland.
Still in the developmental phase, the venture remained nameless. While the representative attempted to sell Hansen on the show, he wasn't impressed. "I've sold things to a number of different movies and television shows. I promise you, it's not nearly as exciting as it sounds," he said.
Hansen said that Crafty Celts products have been featured on movies Beowulf and Grindlel and television shows Dusk Till Dawn and Rain. "None of those made a difference in my business," he said.
After 18 months passed, Hansen had completely forgotten about the series.
Danny would soon realize that his bracelets were featured on a hit television series: 'Vikings.' Aired on the History Channel, the show is an action-adventure historical drama.
Hansen finally realized it while on a business call with a client. "I swear to God, it's your jewelry in this show," the client said. Danny checked the series' official website to confirm. The Crafty Celts bracelets were featured on the homepage. "Then, I got real excited," he said.
The No.1 season brought slightly increased sales and heavily increases bragging rights, but business didn't really pick up until the No. 2 season.
Bracelets represent loyalty and protection in the Viking culture, and the Crafty Celts bracelet played an important role in the second season of the series.
After a priest named Athelstan saves Ragnar Lothbrok's life, Ragnar rewards him with his bracelet. "The bracelet starts to become it's own character, as it is owned and passed on to a number of characters," Hansen said.
Hansen estimated that business doubled, with 75% of sales coming from the internet. The company's social media presence could have been a driving factor. Danny said that Crafty Celts had about 10,000 Facebook fans before the series, increasing to 200,000 after the exposure.
Vikings has now declined in popularity, with sales currently being split between online and store transactions. Nevertheless, the series helped increase sales, with the television marketing being instrumental in establishing long-term success for the company.
Orders can be placed, and more information can be found at craftycelts.com.