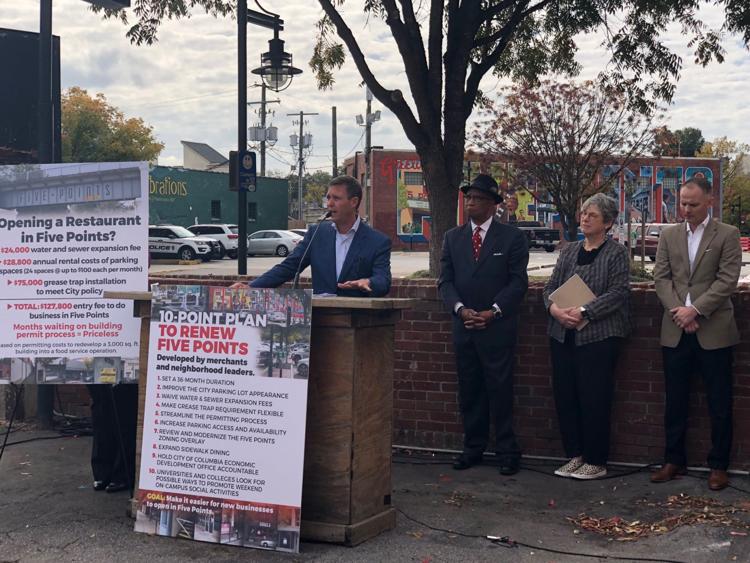 A press conference was held Thursday afternoon on Harden Street, where local business owners, neighborhood leaders, and elected officials introduced a 10-point plan to renew Five Points and attract new businesses to the area.
Many are aware of the variety of bars located in Five Points, most densely on Harden Street, that only open in the evening hours. The goal of the 10-point plan is to make it easier for businesses and restaurants to move to the area, while creating an "18 hour day" for stores to be open during the breakfast, lunch, dinner, and late night hours.
Columbia City Councilman Daniel Rickenmann, who spearheaded the press conference, spoke about the current state of the area. "Five Points, the heart of our city for a century, is in trouble today," he said. "Iconic and long-time businesses and shops are closing or moving. Prime real estate is sitting vacant. If we do nothing, the results will be predictable with more vacancy, vagrancy, and crime."
President of the Five Points Coalition of Neighborhoods, Kit Smith, voiced her agreeance with Rickenmann. "We are advocates and collaborators, and partners with the merchants of Five Points. It's important we have come together to work on a plan. We want a safe, prosperous, diverse, welcoming commercial center here in Five Points," she said.
"Is this an ambitious plan? No, not really. It's a simple business plan," Rickenmann assured the crowd. He said that it's not a matter of creating additional infrastructure, nor is it something that will take a large amount of tax dollars. The most costly thing mentioned entailed a revamping of some parking lots. It was estimated that may cost a quarter of a million dollars, "Which has already been budgeted," he added.
"It's not enough to close bars catering to underage students, we need to make sure the City of Columbia creates an environment in which new business will locate and flourish in Five Points," said S.C. Senator Dick Harpootlian.
The group of speakers stressed the importance of setting a 36-month time frame to achieve the plan.
10-Point Plan to Renew Five Points:
Developed by business and neighborhood leaders
1. SET A 36-MONTH DURATION
Set up a 36-month program. If it works, it can be extended. If not, it can end.
Responsible: Columbia City Council
2. IMPROVE THE CITY PARKING LOT APPEARANCE
The City of Columbia parking lot sets the appearance standard for Five Points. Develop and implement a resurfacing, landscape and lighting plan and add new signage. Remove unsightly meters and replace with a central payment kiosk. Make the City of Columbia parking lot look inviting and safe.
Responsible: City staff
3. WAIVE WATER & SEWER EXPANSION FEES
Waive water and sewer expansion fees when applicable. These fees can be up to $8,000 per 1,000 square feet.
Responsible: Columbia City Council
4. MAKE GREASE TRAP REQUIREMENT FLEXIBLE
Develop, promote and approve less-expensive alternatives for food service operations, without compromising water quality or harming the environment.
Responsible: City staff
5. STREAMLINE THE PERMITTING PROCESS
Implement a fast-track permitting process for Five Points allowing small permits under $20,000 to be approved by the City of Columbia in 7 days, medium permits under $250,000 in 30 days, and large permits in 60 days.
Responsible: City staff
6. INCREASE PARKING ACCESS AND AVAILABILITY
· Waive on-site parking requirements. Today, the City can make businesses rent parking places, which could mean monthly costs up to $800 per thousand square feet of space.
· Charge for street parking 24 hours a day, 7 days a week, which would encourage employees to park in the free municipal lots and facilitate faster turnover of spaces in front of businesses.
· Remove unsightly street meters and convert to a central payment kiosk.
· Dedicate parking revenue to Five Points parking improvements and landscaping.
Responsible: Columbia City Council
7. REVIEW AND MODERNIZE THE FIVE POINTS ZONING OVERLAY
Establish a committee to review the Five Points Overlay and ensure its regulations are relevant today, including heights, required approvals, and density.
Responsible: Columbia City Council
8. EXPAND SIDEWALK DINING
Encourage sidewalk dining by creating an annual permitting process and examine the use of "parklets" to provide more dining space for individual restaurants.
Responsible: City staff
9. HOLD CITY OF COLUMBIA'S ECONOMIC DEVELOPMENT OFFICE ACCOUNTABLE
Have the City of Columbia's Office of Economic Development create and implement a plan to recruit new businesses to Five Points to include:
· Targeting specific city-center businesses for recruitment like destination retail, hotels, office space including co-working, specialty food stores, restaurants and cafes, and local small businesses, especially daytime businesses.
· Assist with zoning, permitting and regulatory approvals.
Report progress monthly to the City Manager, City Council and Five Points Association.
Responsible: City staff
10. CITY'S UNIVERSITIES AND COLLEGES TO PROMOTE WEEKEND ON-CAMPUS SOCIAL ACTIVITIES
Encourage the University of South Carolina, Benedict College, Allen University and Columbia College to promote on-campus social activities on weekends, including, in USC's case particularly, opening the Greek Village on Friday and Saturday nights for social events.
Responsible: University and college leaders
GOAL: Make it easier for new businesses to locate and open in Five Points.