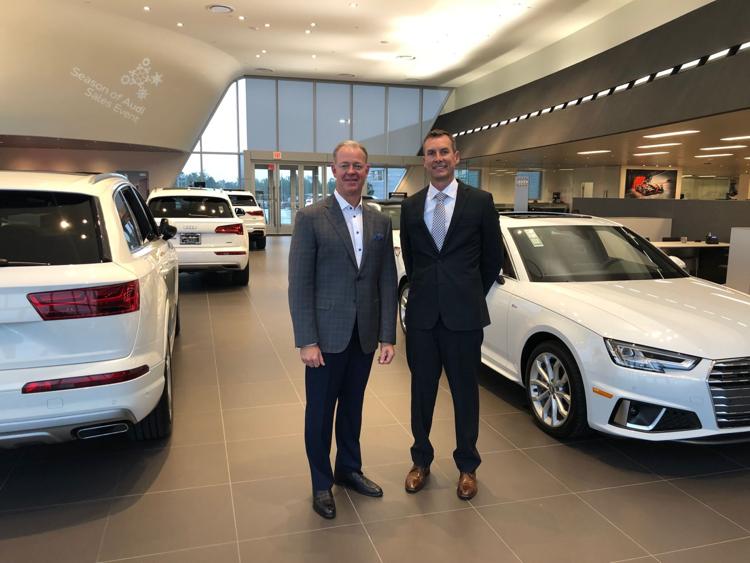 One of the Jim Hudson Automotive Group dealerships has just undergone quite a large upgrade and relocation. Jim Hudson Audi of Columbia, formerly located on Two Notch Road, re-opened Nov. 4 at 1012 Hannah Dr (just off Killian Road).
According to Jim Hudson Automotive President, Keith Hudson, the Two Notch facility was not even one third the size of the new dealership. The new Audi of Columbia was designed with an open, clean aesthetic in mind. The main show room's high ceiling houses LED lighting specifically placed to shine directly onto each vehicle. The right side of the room showcases an angled "race track wall," along with an unused Audi racing suit and helmet in the corner. "It's probably the prettiest show room we have, especially when you see the facility at night," said Hudson.
The dealership keeps approximately 115 to 130 new vehicles on-site, and about 50 used. In addition to the display areas, there are 18 service stalls with 17 lifts available for Audi vehicle maintenance and repairs.
Although Hudson and his father Jim own seven dealerships, he said the development of this facility was special. "It was a special project. It was a long project. It took about two and a half years to get the property acquired, and the building built," he said.
Now that the new dealership is up-and-running, Hudson said they will be able to add more inventory to the larger space. "They're shipping us additional cars, those will be coming in next month," he added.
Audis on-site range from the upper $30,000s to the Audi R8 which is listed for $213,000. According to Hudson, Audi is a German-made vehicle, and cars like the R8 – with a V10 engine – are meant to be driven on roads where speed is not limited. "Unfortunately you can't fully experience what this car was designed to do here in America because it's designed to be taken to the limits, they're performance. But you get on the Audobon in Germany, and it's an amazing experience."
The dealership is open Mondays through Fridays from 9 a.m. to 8 p.m., Saturdays from 9 a.m to 6 p.m., and closed Sundays. More information about Jim Hudson Audi of Columbia is available on the company's website.